UK leisure operator Jet2 has placed an order for 36 Airbus A321neo jets as it seeks to expand and renew its fleet.
The deal – which includes options to increase deliveries to 60 aircraft – marks a shift in preferred supplier for the carrier, which had so far relied on Boeing types for the vast majority of its capacity.
"Jet2.com will be proud to operate the Airbus A321neo in the years ahead," says Philip Meeson, Jet2 executive chairman. "This aircraft is, in our opinion, the most efficient and environmentally friendly aircraft in its class today."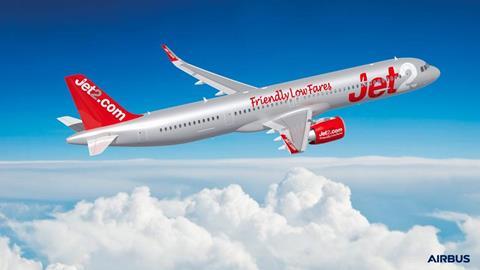 Cirium data shows Jet2 currently has 75 Boeing 737-800s in its fleet, alongside seven 737-300s (all of which are in storage), eight 757-200s and a single Airbus A321-200, which arrived on lease last year.
It had previously wet-leased a small number of Airbus jets.
"Traditionally having been operating non fly-by-wire aircraft, we note with great satisfaction that after having tested a couple of leased A321s and run a comprehensive evaluation, Jet2.com is forward looking and investing in modern and future proof Airbus fly-by-wire technology," says Christian Scherer, chief commercial officer at Airbus.
Jet2 is yet to make an engine selection for the A321neos, Airbus notes.