Low-cost carrier Jin Air has resumed flying its Pratt & Whitney PW4000-powered Boeing 777-200ERs, becoming the first – and possibly only – Asia-Pacific operator to return the PW4000-powered 777 to service after a year-long grounding.
The sister unit of national carrier Korean Air returned its PW4000-powered 777 to service on the Seoul Gimpo-Jeju domestic service on 12 June, and aims to operate for international flights in July, to coincide the summer peak travel season.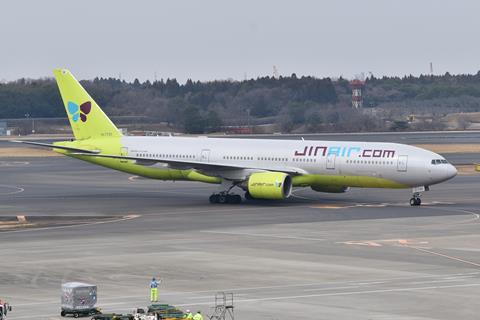 Jin Air was among the handful of Asian carriers that had to ground the PW4000-powered 777s in February 2021, following a serious engine failure on a US aircraft. Other airlines in the region include Korean Air, Asiana Airlines, as well as Japanese operators Japan Airlines and All Nippon Airways.
Cirium fleets data shows Jin Air to have a fleet of four 777-200ERs, which are between 15 and 18 years old. The airline says it will "complete maintenance" of its three remaining widebodies, and put them into operation "in the future".
It appears to be the first PW4000-powered 777 operator in the region to do so. Cirium fleets data shows that compatriots Korean Air and Asiana have kept their 25 jets in storage, while ANA and JAL have previously announced plans to retire these aircraft.
Jin Air touts the higher seat count of its 777 aircraft among the reasons for bringing it back to service.
"In particular, the B777-200ER aircraft can be equipped with a total of 393 seats, so supply can be immediately increased on the Gimpo-Jeju route, where slots are saturated," it states.
In an update on its fleet plans, Jin Air also announced that it has taken delivery of its first Boeing 737 Max, which will enter service in July. The airline has no outstanding orders for 737 Max aircraft, according to Cirium fleets data, though sister carrier Korean Air has 26 examples on order.