KLM last month carried out a commercial passenger flight partly flown with sustainably produced synthetic kerosene, in the latest push by Dutch industry to develop alternative fuels for aviation.
Details of the landmark flight were disclosed during a Synthetic Sustainable Aviation Fuels conference held in The Hague today.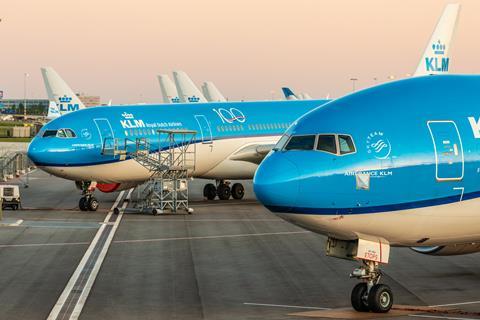 The KLM flight from Schiphol airport to Madrid was carried out on an admixture of 500 litres of sustainable synthetic kerosene. Shell produced the synthetic kerosene in Amsterdam based on CO2, water, and renewable solar and wind energy.
KLM chief executive Pieter Elbers says: "I am proud that KLM is today operating the industry-first flight using synthetic kerosene made from renewable sources. The transition from fossil fuel to sustainable alternatives is one of the largest challenges in aviation.
"Fleet renewal contributed significantly to the reduction of CO2 emissions, but the upscaling of production and the use of sustainable aviation fuel will make the biggest difference for the current generation of aircraft. That is why we teamed up with various partners some time ago, to stimulate the development of sustainable synthetic kerosene. This first flight on synthetic kerosene shows that it is possible in practice and that we can move forward."
Shell Netherlands chief executive Marjan van Loon describes the flight as an important first step, adding: "Together with our partners we now need to scale up, accelerate and make it commercially viable."
The Netherlands has been prominant in promoting sustainable aviation fuel projects, with the Dutch government supporting various initiatives to stimulate production and use, and thereby make it commercially viable.
Notably that includes the construction of the first European factory for sustainable biokerosene in Delfzijl, on which SkyNRG is collaborating with KLM, Schiphol airport and SHV Energy.
Details were also disclosed during the conference of further initiatives under way. They include a project under which start-up Synkero is collaborating with the Port of Amsterdam, Schiphol, KLM and SkyNRG on a commercial synthetic sustainable kerosene factory. Elsewhere, energy firm Uniperjhas has signed an MoU with the Zenid consortium, which includes Rotterdam airprot, Climeworks and SkyNRG, to support the engineering and operation of a direct CO2 capture demonstration plant.