KLM is "in the midst" of discussing a possible narrowbody aircraft order with Airbus and Boeing.
That is according to KLM chief executive Pieter Elbers, who says the airline is returning to a fleet replacement process that had been underway when the Covid-19 pandemic struck.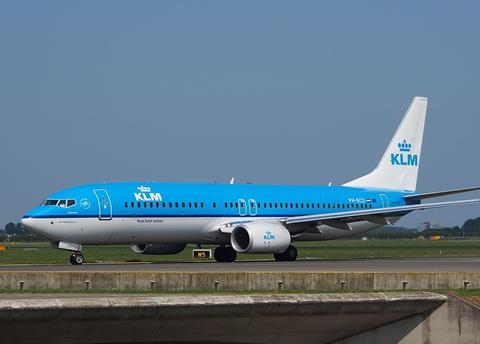 "We're now in the midst of the discussions with the two of them," Elbers says when asked about narrowbodies offered by Airbus and Boeing. "We are speaking here with the suppliers."
He made his comments on 4 October in Boston during IATA's World Air Transport Summit. Elbers notes KLM already renewed its regional aircraft fleet with Embraer E-Jets and its widebody fleet with 787s and 777s.
Now, KLM's focus returns to replacing the 737s.
KLM and affiliate Transavia operate nearly 100 737NGs, which have an average age of 12 years, according to Cirium fleets data, although some are more than 20 years old.
"The focus today is first getting the replacement of the 737s," Elbers says. "We haven't made any decision yet."
He declines to discuss the relative merits of narrowbodies offered by Boeing and Airbus. "I'll let the process run," Elbers says.