Korean Air plans to entirely exit four-engined passenger aircraft within the next ten years.
The carrier's plans for its Airbus A380 and Boeing 747-8I fleets were confirmed by chief executive Walter Cho in an interview with FlightGlobal.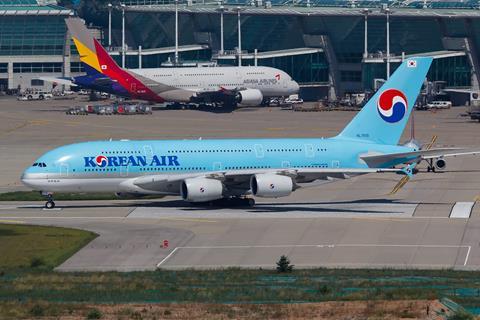 "The A380s will be leaving Korean Air's fleet within five years, and the Boeing 747-8I fleet will also follow suit within ten years," says Cho.
According to Korean's second quarter results presentation, it has 10 A380s and 10 747-8Is. The presentation also shows that the 747-400 is no longer a part of Korean's operational fleet.
Cirium fleets data suggests that nine of the A380s and eight of the 747-8Is are in storage. The average age of the A380s is 9.3 years, while that of the 747-8Is is 5.2 years.
Korean will also inherit six Asiana Airlines A380s when its acquisition of the rival airline is completed, likely in a few years. Korean's A380s are powered by the Engine Alliance GP7200, while Asiana's are powered by the Rolls-Royce Trent 900. All six of Asiana's A380s are in storage.
As for its other widebodies, Korean operates 26 777-300ERS with an average age of 7.3 years. It also has orders for 10 787-9s (adding to 10 in its current inventory) and 20 787-10s. It has not, however, placed any orders for the developmental 777-9.
"I believe the Boeing 777 is one of the most successful aircraft in aviation history," says Cho. "If asked, I would say the B777-300ER is my favourite model. While I haven't ruled out the Boeing 777X, there are some points that still need verification. I may consider it after that, but I don't think we'll have a large demand for new aircraft for some time as we already have a significant number of aircraft in operation or on order."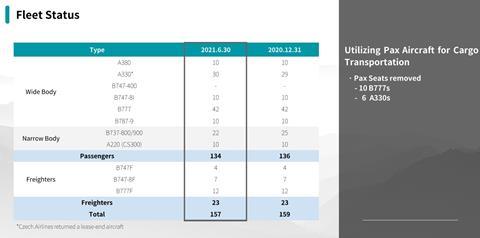 As for narrowbodies, Cho expressed confidence in the 737 Max, of which Korean has 30 examples on order.
Following fatal crashes in 2018 and 2019, the type was grounded globally for nearly two years. Although the USA and Europe have lifted their groundings after modifications to the jet's flight control software, the type remains mostly grounded in the Asia-Pacific.
"I was always confident in the Boeing 737 Max from the beginning despite the tragic incidents," says Cho.
"Boeing could have dealt with the situation better, but I trust Boeing's commitment to its customers including Korean Air. My confidence in the Boeing 737 Max remains the same, and I believe the Max is now one of the safest and most proven aircraft. Although when we ordered the Max, we did not anticipate the Asiana acquisitions. Now [we have] ended up with three different narrow bodies and three different engine types."
Korean's existing narrowbody inventory comprises 22 737-800/900s and ten A220s. In addition to the 30 737 Max 8s, it also has orders for 30 A321neos, which will be powered by the Pratt & Whitney PW1100G.
Asiana operates 19 A320 family jets, including four A321neos powered by CFM Leap-1A engines. It has orders for an additional 21 CFM-powered A321neos.