Korean Air aims to begin Boeing 737 Max operations from the start of March after taking delivery of its initial example on 13 February.
It is the first of six 737 Max 8s the SkyTeam carrier is scheduled to receive this year. Korean ordered 30 of the type in 2015.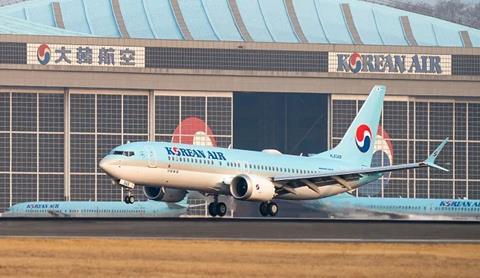 Korean will deploy the aircraft in a two-class, 146-seat configuration, which includes eight premium seats.
Boeing senior vice-president of commercial sales and marketing Ihssane Mounir says: "This milestone delivery will further enhance Korean Air's domestic and regional capabilities and we are dedicated to supporting the airline as they integrate these new airplanes into their world-class fleet."
Cirium fleets data shows the airline has 19 Boeing 737-800/900 and 10 Airbus A220 narrowbodies in service. The airline also has 30 A321neos on order.
South Korean regulators cleared the path to restoring Boeing Max services in November 2021, following the type's global grounding.
"We have sent our mechanics to other overseas airlines that already operate the aircraft and adapted our own maintenance manual for training so that our team can perform standardised maintenance under any circumstances," Korean says.
"We have also updated the flight operation manuals to prepare against all possible situations during flight, and have conducted pilot training for these situations using our own 737-8 simulators."
Korean low-cost operator Eastar Jet was the first Max operator in the country, but is still to resume flights after a proposed acquisition by Jeju Air fell through. The airline is now aiming to resume operations this year after securing a new investor. Jeju Air itself has an order for 40 Max aircraft.