Irish wet-lease operator CityJet has withdrawn the last of its BAE Systems Avro RJ85 regional jets, ending a 27-year association with the type and its predecessor, the BAe146.
The operator's final RJ85, registration EI-RJF, left Dublin on 2 November bound for Reykjavik. The aircraft was en-route to the USA where is to be converted into a firefighting aircraft to combat forest blazes with AeroFlite. The aircraft was built in 1999 and was acquired by CityJet in 2007, part of a batch 27 RJ85s bought from US regional carrier Mesaba.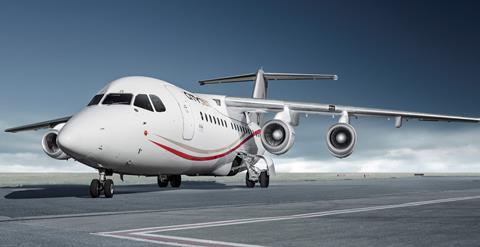 Since its launch in 1993, CityJet deployed the type on a network of routes from London City airport as well as for its one-time parent Air France out of Paris. It has operated over 50 of the type, flying more than 475,000 flights over this period.
In 2016 CityJet took the decision to phase out its 95-seat RJ85s under a fleet modernisation programme. The airline, which recently completed a restructuring under an Irish examinership process, now has 20 Bombardier CRJ900 regional jets in service.
CityJet chief executive Pat Byrne says: "For almost 30 years, the Avro BAe146 and RJ85 fleet has served us well, and for some there were a few tears shed today when -RJF departed for the last time. We are now looking to the future as we grow our services on more modern aircraft, but there will always be a place in our hearts for the venerable Avros."
The airline's last passenger flight with the Avro RJ, a Dublin-London City service for Aer Lingus, took place on 24 March immediately before the first wave of lockdowns were introduced in Europe to counter the global pandemic.