Law firms representing Norwegian's lessors and creditors have raised concerns over the airline's bid to repudiate 36 aircraft leases under its restructuring process.
In a hearing on 4 February at the Dublin High Court, as part of Norwegian's Irish examinership process, Lisa Smyth from McCann Fitzgerald – representing companies including SMBC Aviation Capital and FPG Amentum – raised concerns over the "deluge" of paperwork that had "bombarded" creditors as part of the repudiation process.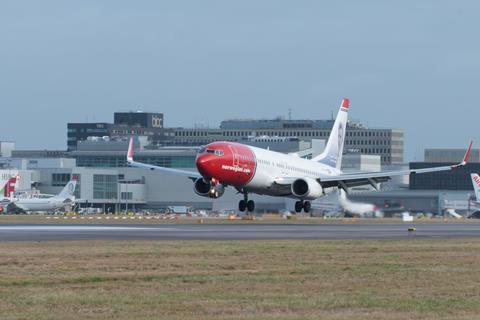 She cites multiple applications received from Norwegian and its subsidiaries in relation to the return of 36 aircraft to their owners, the most recent being submitted on 3 February, leaving little time to respond.
Lessors, she argues, must not be "blindsided" in relation to the repudiation applications and "funnelled into an unworkable timetable". Smyth says lessors are not asking for time for no reason, but are dealing with "extremely complex assets", in combination with challenges such as closed borders.
Smyth suggests there area "real practical issues" with how the aircraft under question could be returned, and questions whether the €163 million ($192 million) Norwegian will have at the end of March is sufficient to ensure the safe redelivery of those aircraft if a repudiation order were made by the court.
Stephen Brady, representing ICBC Financial Leasing, which has supplied 10 aircraft to Norwegian, argues that the airline's applications lack analysis to allow the court assess how the leases are onerous or burdensome or have any other attribute warranting their repudiation.
He also sees no indication in the application that obligations under the Cape Town Convention, including return process, will be addressed under the repudiation application.
Michael Murphy from McCann Fitzgerald – representing creditors such as BOC Aviation, AerCap and the US EXIM Bank – raises concerns that "nowhere" in the affidavit is there evidence or correspondence relating to the condition of the aircraft when handed back, or the timing of redelivery, and that there is "no regard" to maintenance or return conditions.
Brian Kennedy, representing Norwegian, says there is a willingness to engage with creditors on the issue. He adds that the aircraft will be returned "as soon as practically possible", given the number involved, and that Norwegian will continue to maintain and insure them until that time.
He notes that the airline has received a number of affidavits from creditors replying to its repudiation applications and will seek to move those on to a hearing "as soon as possible".
Norwegian, along with subsidiaries including Arctic Aviation Assets and Norwegian Air International, entered examinership in Ireland in mid-November and is in a parallel process in Norway.