Operating lessors with exposure to Malaysia Airlines will vote on the carrier's restructuring plan on 10 February, the airline confirms to Cirium.
The Malaysian airline adds that it has divided creditors into seven classes as part of its UK court-led restructuring, which involves a "revised long-term business plan".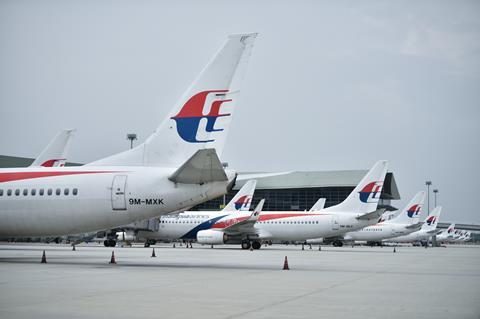 Finance lessors are in a separate class and will not participate in Wednesday's vote.
Cirium fleets data show 16 lessors have exposure to Malaysia Airlines to the tune of 60 aircraft.
Lessors with exposure to Malaysia Airlines
Lessor as manager
Aircraft type
Number of aircraft
Source: Cirium fleets data
Aercap
A330-200
6
Air Lease Corporation
A350-900
6
ALAFCO Aviation Lease & Finance
737-800
2
AMCK Aviation
737-800
2
Aviation Capital Group
737-800
1
Avolon
737-800
4
BBAM
737-800
14
BOT Lease (owned by KOTAM)
737-800
2
GECAS
737-800
1
Goshawk
737-800
4
Infinty Transportation
737-800
1
Jackson Square Aviation
737-800 and A330-300
1 and 2
Novus Aviation
A330-300
2
Showa Leasing
737-800
4
SMBC Aviation Capital
737-800
2
Standard Chartered Aviation Finance
737-800 and A330-300
4 and 2
TOTAL
60
Negotiations with lessors got off to a rocky start when most objected in October to the proposed restructuring, pointing in particular to a cramdown mechanism available under Part 26A of the UK Companies Act as being unfair. Under that mechanism, approval from only one class of creditors would have been required and dissenting creditors could have been forced into agreement.
However, with the appointment of restructuring specialists Houlihan Lokey and after months of what the airline's parent Malaysia Aviation Group says were "intense" negotiations, the airline and its advisors were able to mollify lessors and convince nearly all of them to agree in principle to a restructuring.
Since a "small minority" did not indicate its support, the airline decided to implement part of the restructuring through a scheme of arrangement to be proposed by its aircraft leasing subsidiary MAB Leasing.
MAB Leasing issued a practice statement letter on 23 December to some of its creditors to notify them of its intention to file a scheme of arrangement in the UK court.
On 20 January, a UK court green lit the airline to convene a creditors meeting to approve the proposed scheme.
Malaysia Airlines expects to report back the outcome of the creditor meeting to the UK court at a sanction hearing set for 22 February, and to conclude the court process by the end of March.