Indonesia's Lion Air is set to return stored aircraft to service during the Eid holiday season, though its fleet of Boeing 737 Max jets will remain parked.
In a statement on 29 April, the low-cost carrier says it expects to be deploying 110 aircraft, comprising six Airbus A330-300s and six A330neos, as well as 35 Boeing 737-800s and 63 737-900ERs.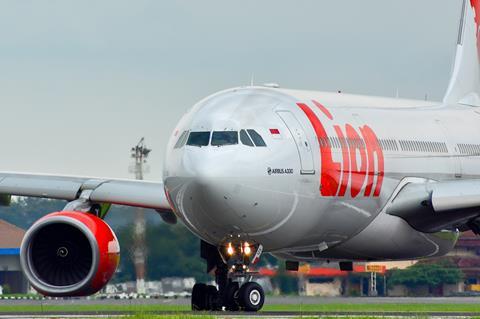 This would mean reactivating its stored jets, which currently total 18 examples, according to Cirium fleets data. The airline has 13 737-900ERs, two -800s, as well as two A330-300s and a sole A330neo parked.
The airline makes no mention of deploying its 737 Max aircraft, which remain parked despite the lifting of an operational ban by Indonesian authorities in late December.
Cirium fleets data shows the airline to have nine Max 8s parked. The 737 Max was subject to a global grounding in 2019 after two fatal crashes, including one involving a Lion Air jet.
In January, it was reported that Lion Air had conducted a readiness flight with a Boeing 737 Max 8 flying between Batam and Makassar.
In its latest statement, Lion Air says the 110 jets will be deployed across 12 major airports, including its hub of Jakarta, Surabaya, Balikpapan, as well as Makassar.
It stressed its commitment to ensuring that all aircraft have been "thoroughly" inspected and maintained before being returned to service.
The Eid holidays, which fall on 3 and 4 May in Indonesia this year, is traditionally a peak travel period, with large numbers of Indonesians returning to hometowns to celebrate.