Lion Air has approached its lessors with an alternative proposal for their leased aircraft on the back of their feedback on its requests for by-the-hour arrangements, according to sources and an email seen by Cirium.
The Indonesian carrier is proposing a four-part plan, involving the partial payment of rentals over the next 18 months, instead of a by-the-hour deal.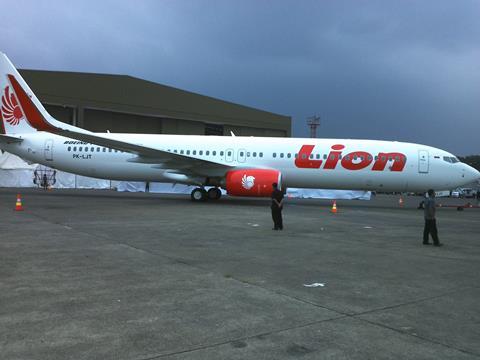 Under the plan, it would pay 10% of lease rentals between September and November; 20% between December and May 2021; 25% between June and August 2021; 50% between September and November 2021; and 80% between December 2021 and February 2022.
In return for these haircuts, the airline is offering lease extensions up until the aircraft are 18 years old, basing the extension rentals on the rates for a 12-year-old aircraft. Lion Group's leased aircraft range from one to 14 years old, Cirium fleets data shows. At the end of the deferral period, a blended rental of the original rent and the extension rent would come into effect.
Like many airlines around the world struggling amid the Covid-19 pandemic, the airline asked lessors for rental deferrals earlier in the year. It proposes repaying lease rentals that were deferred from March with proceeds from an initial public offering. If that IPO does not take place by 2027, it says, the amount will instead be amortised and repaid over the lease term.
Lion has been talking about going public since as far back as 2004, when it said it planned to list in 2005. Nearly 10 years later, John Duffy – then chief operating officer of Lion's captive lessor Transportation Partners, which is involved in the current negotiations with lessors – said the airline was "seriously considering" launching an IPO in 2015.
In a 2017 interview, the carrier's founder Rusdi Kirana said the time was not right for an IPO. "The IPO doesn't only depend on the company, but also on the market," he said. "You need to have a good moment, the right moment."
Most recently, the airline said in October 2019 that it would finally conduct the IPO, before putting the plan on ice in the first quarter of 2020, partly due to the Covid-19 pandemic.
Lion says in an email which went out to lessors in early October 2020 that it wants to remain competitive after Covid-19, but that this could be difficult without reductions in rent given that other carriers in the region have asked their lessors to re-bid.
It points to the cases of Virgin Australia, Malaysia Airlines, Thai Airways, Nok Air and Virgin Atlantic as examples.
"These airlines will have lower CASK and therefore [be] able to lower their yields. This then penalises airlines who survive through Covid without a similar restructuring since CASK will be higher and thus uncompetitive after Covid-19," it says.
"This is especially so for the group who continue to have aspirations to tap capital markets."
A LUKEWARM RECEPTION
Three lessors with exposure to Lion Group offered a lukewarm view of the latest proposal.
"It's quite a bit different from the PBH [power-by-the-hour] proposal they made previously and it's not clear that it's an improvement on it," says one lessor, adding: "This is something we are really just starting to evaluate and understand.
"There have just been a collection of different proposals [from Lion] that have been vastly different from each other and lessors are being kept on their toes trying to understand it. I'm flayed from the different proposals coming in from left field and a very bumpy process thus far."
A second lessor suggests the slew of different proposals could be a way for the airline to buy time.
"Before this, [they] proposed a PBH deal and before that there were other deferral deals along the way – and this has been going on for six months now. I think it's just time stalling. We have been coming up with counter proposals in line with what they have proposed all the time, but they keep shifting the goalposts."
Lion says in its October email that its new proposal comes "on the back of lessors' feedback on the PBH construct". Cirium understands that while the by-the-hour request was not widely popular with lessors, some did accept it.
One lessor believes the most recent proposal "came about from discussions with some of their larger lessors who were trying to steer them away from doing the PBH… I don't think this is something they have necessarily come out with on their own."
Despite the signs of collaboration, not all lessors feel they are being included enough.
Lion's October email ends: "Looking forward to hearing your thoughts, as we brainstorm together to combat Covid-19."
The lessor says: "The brainstorm line is just kind of funny. That's not really what's going on."
Analysis by Michael Allen of Cirium