Luthansa Group is to lease four more Airbus A350-900s in the first half of next year, taking to 21 the number it will have in its fleet.
The group says it has signed leases with Avolon, SMBC Aviation Capital and Goshawk covering the four aircraft. The airline says the aircraft will "primarily" replace four-engine A340-family aircraft.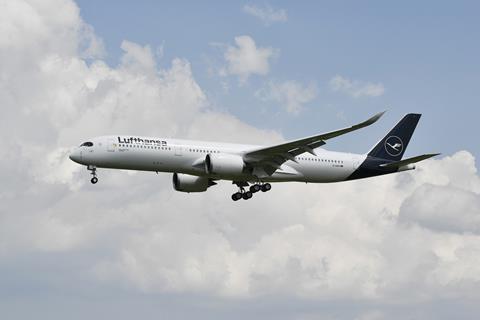 Lufthansa executive board member Detlef Kayser says: "The Airbus A350 is one of the most modern aircraft of our time. Extremely fuel-efficient, very quiet and much more economical than its predecessors.
"The lease agreements allow us to remain flexible in fleet planning and make the most of exceptional market opportunities."
As part of its accelerated fleet renewal plans, Lufthansa says it expects the proportion of four-engine aircraft in its long-haul fleet to fall below 15% by the middle of the decade, as opposed to 50% before the pandemic.