When Mike Stewart first came to Boeing's Everett, Washington plant in 1968 to work on the 747, he could not believe his eyes.
He had finished high school a week before, and began a job for Boeing in tooling, helping to build assembly and production tools for "Section 41" – the nose – of the very first 747.
"I was just a kid from Kansas, moved here, and I just could not believe how big that airplane was… How's that going to fly?" he says.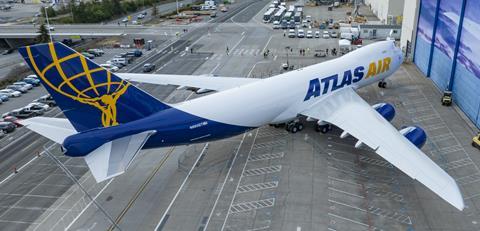 Fifty-five years later, standing beside the final 747 airframe to come off the Everett production line, he still cannot believe how big it is.
"It's almost impossible to look at and remember how it seems to float. I'm still struck by that," Stewart said on 31 January.
He is one of "The Incredibles", a group of Boeing workers who in the late 1960s created, engineered, developed and constructed the first of what would become a truly iconic aircraft. About 50 Incredibles were on hand in Everett on an icy-cold overcast late January day to mark the very last of the type to be delivered, to cargo carrier Atlas Air Worldwide Holdings.
Aircraft number 1,574 carries registration N863GT and will fly for Apex Logistics, a subsidiary of Swiss freight company Kuehne + Nagel. It will leave Everett on 1 February, initally bound for Atlas Air's hub in Cincinnati. The airframe will be handed over to Apex in "about 10 days", Atlas' chief executive John Dietrich says.
The 747 has a storied history. Since its first flight in 1969, the jumbo has played a role in popular culture, and represented a sea-change in travel. Beginning in the early 1970s, for the first time, hundreds of passengers could be transported at once.
Juan Trippe, founder of Pan American World Airways – which operated the first 747 commercial flight on 21 January 1970 – recognised the value of such an airliner long before it existed. As the story goes, Trippe told Boeing then-chief executive Bill Allen that if Boeing would build a jumbo jet bigger than any other aircraft to date, he would buy it.
Allen's response: "If you buy it, I'll build it."
"A handshake by giants set the 747 in motion," another former Boeing CEO, Phil Condit, told the nearly 9,000 guests gathered in Boeing's Everett plant on 31 January for the event marking the last 747 delivery.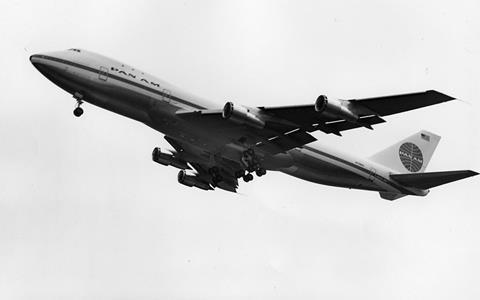 John Roundhill, Boeing's former vice-president of product, strategy and development, adds, "The 747 changed communities of people around the world. All of a sudden, people could fly in an incredibly roomy airplane that gave them the impression of their living room, taking off with 360 of their closest friends."
In just a few years, the massive aircraft with the hump on top became known as "Queen of the Skies": majestic, unique and commanding attention wherever she flew.
While Boeing branded the event a "celebration", many of the Incredibles, most of whom are now well over 80 years old, spoke with tears about the aircraft with which they had spent so much time and shared so much love. The type's six variants had defined their careers and their lives.
"It's made a tremendous difference to the commercial aviation industry," says Scott Tomkins, a structural engineer from the UK who came to work on the project in the late 1960s. "Once, when we went back to Britain, we had some friends' kids visiting and a plane flew over. And this young boy looked up and said, 'That's a Boeing.' He didn't know what kind of plane it was, but he just knew that the word was 'Boeing'. And I thought, 'Yes, that's true.'"
After Pan American became the first airline to operate the aircraft, Lufthansa was the 747's first launch customer in Europe – an important milestone for that airline and its home country, current CEO Carsten Spohr says at the event. Spohr's personal love-affair with aviation also began in the mid-section of a 747, when it took him from Germany to San Francisco as an exchange student years ago.
"The 747 is a symbol for many, many things. Above all, it's a symbol for the world which the 747 has made substantially smaller," Spohr says. "And by making it smaller, the 747 has played a key role in making the world more peaceful."
"Being the first 747 operator in Europe meant… we were back with the grown-up airlines after these difficult years following World War Two," he adds.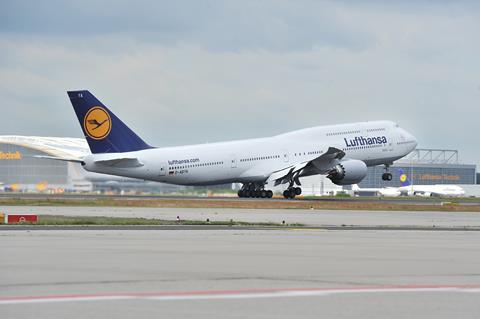 For Lufthansa, the aircraft's career is long from over. "We hope to fly this amazing airplane way into the next decade," Spohr says, adding with a chuckle, "And the 747-8 is so damn good looking."
Movie star John Travolta – a pilot rated to fly Boeing 707s, 737s and 747s – calls the jumbo jet "the most well-thought-out and safest aircraft ever built".
"There's nothing like seeing a 747 take flight to remind you that there's also magic here," he tells event attendees. "She's a great airplane, and I'm looking forward to flying with her for many years to come."
Despite the turbulence and crises Chicago-based Boeing has faced in recent years, chief executive David Calhoun promises the company's leadership is committed to maintain the type of innovative culture that made the 747 possible.
"We didn't stop funding the future for a minute. The hangars are full of innovation. They are full. We have airplanes that will displace the 747, and they will compete with it for 50 more years in service," Calhoun says.
"Because of the legacy you built, the foundation we stand on and the innovation we are investing in, we are going to be doing these product legacy stories forever," he adds. "We are committed to it forever."
Calhoun's words were addressed to Boeing's current workers, but also retired engineers and mechanics like Mike Stewart, one of the 747's pioneers. Stewart says that while watching the last 747 leave the Everett factory marks the end of an era, it is not the end of its history.
"It's sad, but you can see the 777X sitting out there on the ramp. And you know, just from experience, every programme is going to sunset, but there's something else coming after that. And now the 777X is coming, and who knows what else?"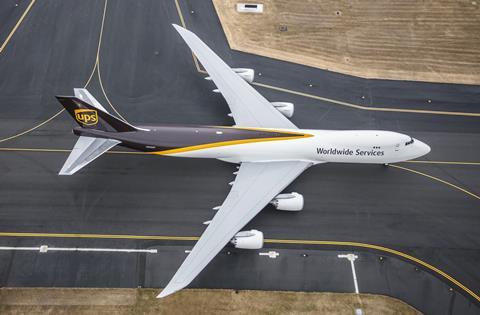 Pilar Wolfsteller, Americas Air Transport Editor, is based in Las Vegas and brings a pilot's perspective to her beat. She covers airlines across the hemisphere and her interests also include future-oriented sustainable aviation technology and urban air mobility projects. Pilar began her journalism career at the global news agencies Bloomberg and Reuters, and has reported from more than 50 countries.