After months of negotiations, Malaysia Airlines has secured near-unanimous in-principle agreement from lessors and other creditors for its planned restructuring, three people close to the process tell Cirium.
"It's an almost fully consensual pre-approved plan which is the result of a lengthy ongoing discussion with the lessors and lenders, and was a well-managed process, and a fair and transparent process," says one.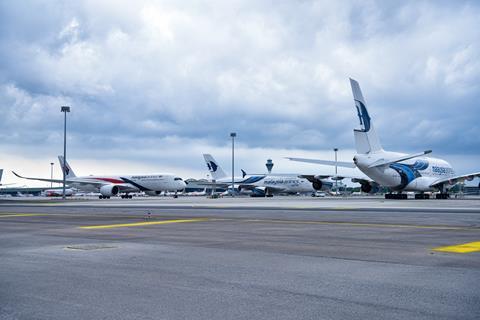 The three sources, who all have exposure to the airline and asked not to be named given the sensitivity of the negotiations, had not yet seen confirmation from the airline or its advisers that a UK court filing of related documents had been made as scheduled on 13 January, although they all said they had been given prior notice of this plan.
Another of the sources says the airline informed his company that there would be a court hearing about a week after the official filing.
Reuters on 7 January reported that the airline's parent Malaysia Aviation Group (MAG) had said it was nearing the end of its restructuring process and hoped to complete it in the first quarter of this year. Noting that it was in talks with around 40 creditors and lessors to take a haircut under its MYR16 billion ($4 billion) debt restructuring plan, it expressed confidence that a "win-win" result could be achieved.
Cirium understands that the carrier does not quite have unanimous support yet and still needs agreement from at least one remaining lessor which is still seeking approval from the investors that financed the aircraft it has on lease to Malaysia Airlines.
In total, 16 lessors have exposure to Malaysia Airlines, to the tune of 60 aircraft in total.
Malaysia Airlines does not need every single lessor and creditor to agree in order for the court-supervised restructuring to proceed, sources say, and the level of creditors that have already indicated their consent would be sufficient to set the ball rolling.
"They don't need us, but they would still like to have everybody on board," says one lessor that had been holding out.
FROM ACRIMONY TO ACCORD
The current level of acceptance marks a stark contrast to the stance of creditors when the airline first proposed the restructuring.
Back then, in October, lessors claiming to represent 70% of the aircraft and engines leased to the group called the airline's restructuring plan "fatally flawed" and pledged to challenge it, according to a Reuters report.
That acrimonious start was due partly to the airline's proposal to file under Part 26A of the UK Companies Act 2006.
This would have required approval from only one class of creditors, rather than all creditor classes, and dissenting creditors could have been forced into agreement via a cramdown mechanism. The airline also requested cuts to lease rentals that many lessors thought were too deep to be acceptable.
Following negative feedback on that plan, the airline appointed US restructuring specialist Houlihan Lokey to assist. Sources tell Cirium that negotiations became smoother after that firm's involvement.
A person close to the process, who does not work for Houlihan Lokey, says the company was able to get "traction" with creditors following its appointment. This, coupled with a "realisation in the lessor and finance community that you can't keep threatening to put everyone under, because [if you do] there won't be any industry [left]", helped lessors come around to an agreement with the airline.
One of the sources with exposure to the airline says the previous proposal had been "much less favourable" to lenders and lessors but in its final iteration is a "much more creditor-friendly plan".
Another source says that while the airline and its counsel may not necessarily have agreed with the lessors' view on the Part 26A proposal, it simply could not proceed with such a level of hostility from its creditor base.
"Then they sort of engaged in some negotiations and increased the rentals to a rational level. On that basis, ultimately people [creditors and lessors] did accept the fact that a restructuring had to come," the person says, adding that the current, more amicable agreement includes favourable provisions for lessors, including refraining from pushing maintenance expenses onto them, which has been the case in some other Covid-19 airline restructurings.
In addition, unlike in other restructurings where airlines have returned aircraft to lessors which will then struggle to remarket them in the Covid-19 environment, Malaysia Airlines does not appear to be planning to reject any leases.
"No one is pleased to have their leases restructured, but considering the direction they wanted to go in the beginning to where they ended up going, I think it was fair," the person says.
PARENTAL SUPPORT
Sources add that positive signals from Khazahnah Nasional, a Malaysian sovereign wealth fund and the airline's parent, to inject more funds into the airline have further helped creditors come around to agreeing a deal, with the view that taking some pain now could ultimately pay off if the airline emerged stronger after the pandemic.
"This gives the assurance that the government is still willing to put up money to keep the company going, so I think that helped to convince the creditors to go ahead with the plan," one of the sources with exposure says.
Earlier on in the pandemic, Khazahnah's financial commitment to Malaysia Airlines was unclear. In June, the carrier said it was in discussions with its parent about the support it needed but had not received any funding commitment.
Khazahnah had previously proposed a "Plan B" whereby if creditors could not agree on Malaysia Airlines' restructuring then subsidiary Firefly, a regional turboprop operator, could replace its parent as the national carrier of Malaysia.
'GREAT RESULT'
The months-long negotiations involved considerable back-and-forth, with one lessor remarking on the sheer amount of discussion required to reach a conclusion: "It's been crazy and is keeping my legal team working round the clock."
Another source with exposure declares the outcome after months of wrangling a "great result", given the circumstances. "One, because they eventually agreed to keep the whole fleet and they are not treating the creditors too badly. They are just using market rates or reasonable rates and making a reasonable offer, and the shareholder is still committed to pump more money into the airline. There is a chance for this airline to survive."
However, there is still a lot of work to be done and the final outcome is not yet clear.
"It's not near the end yet," a person close to the process says. "It's more that they are heading in the right direction."
This analysis is written by Michael Allen, part of Cirium's Asia-Pacific reporting team