Malindo Air will begin transferring 15 Boeing 737s to its Lion Air Group sister carrier Batik Air this month, as part of measures taken to overcome challenges from the coronavirus outbreak.
In a 6 March internal memo to employees seen by Cirium, Malindo's chief executive Mushafiz Bakri says that in addition to the fleet transfer, the carrier has suspended several services, as well as requesting a delay on payment to airport operators, ground handling companies, and suppliers. It is also urging employees to volunteer for unpaid leave, while its senior management will take a pay cut of up to 40%.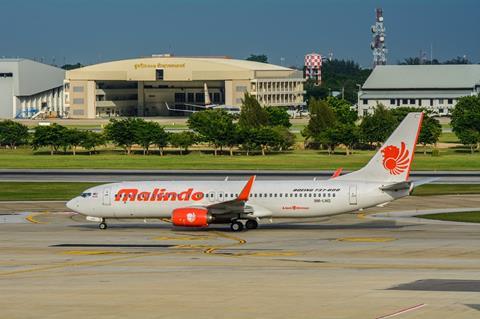 He points out that demand for air travel "has almost collapsed," and that potential business and leisure passengers have delayed their travel plans "not just out of the fear of contracting the virus," but also due to the travel restrictions imposed by the various authorities.
"Given this situation, all airlines including us are facing severe revenue shortfalls to support existing operations, coupled with the huge fixed costs we have to meet," says Mushafiz.
The memo did not specify whether the 737s being transferred to Batik will only be the -800s or a combination of the -800s and -900ERs.
In response to a request from Cirium for more details, Malindo would only say that the fleet transfer begins this month and that the flight suspensions are on routes to China.
Malaysia-based Malindo will lose half of its jet-powered fleet when it transfers the 15 737s to Indonesia-based Batik. Cirium fleets data shows that Malindo has 24 737-800s and six -900ERs in service. It also has 12 ATR 72-600s in service, with one now in storage.
The fleet transfer will also lead to Batik Air's fleet growing from 58 to at least 73 aircraft. Batik's fleet comprises 44 Airbus A320ceos and one A320neo, an A330-300, and 12 737-800s and -900ERs.
Batik's parent Lion Air Group was not available for comment.