MSC Mediterranean Shipping stepped into the air cargo industry on 28 November as its operating partner Atlas Air took delivery of a Boeing 777-200 freighter, which Atlas will operate on behalf of MSC.
"We are delighted to see the first of our MSC-branded aircraft take to the skies and we are looking forward to start serving the market with our new air cargo solution," Jannie Davel, vice-president of air cargo at MSC, said 28 November. "We believe that MSC Air Cargo is developing from a solid foundation thanks to the reliable ongoing support of our operating partner Atlas."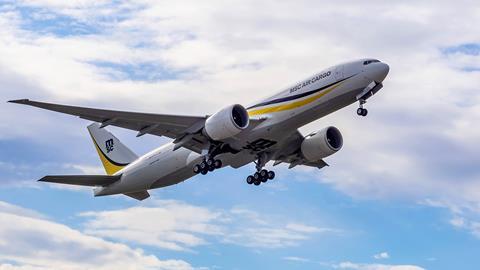 The aircraft was delivered as part of a long-term aircraft, crew, maintenance and insurance agreement between the Purchase, New York-based Atlas and MSC, which is headquartered in Geneva, Switzerland.
It is the first of four new 777-200Fs that Atlas will operate for MSC, which is eyeing an expansion into the booming post-pandemic air cargo market driven largely by high ocean shipping rates and the broad shift to online shopping.
"We are looking forward to this partnership with MSC, the world's largest shipping company, as they enter into air cargo," says John Dietrich, Atlas' chief executive. "We are pleased that all four of our newly acquired 777-200Fs are placed on a long-term basis with MSC, providing them with dedicated capacity to support their growth and expansion."
The longest-range twin-engine freighter in the world, the 777-200F is capable of flights as far as 4,880nm (9,038 km). Atlas expects the other three 777-200Fs will be delivered throughout 2023.
Meanwhile, Atlas has taken delivery of two new Boeing 747-8Fs this year and expects two more by the first quarter of 2023. "All four of these aircraft are placed with customers under long-term agreements," the company says.
By the end of the year, Atlas also expects to have purchased five existing 747-400Fs that have reached the end of their leases with other customers.