Nearly 500 regional jets are parked in the USA because regional carriers don't have enough pilots to fly them.
Cirium fleets data reveal that 483 regional jets and turboprop aircraft are currently in storage for 11 regional carriers based in the USA – Skywest Airlines, Air Wisconsin, Endeavor Air, Envoy Air, PSA Airlines, Piedmont Airlines, Mesa Airlines, Horizon Air, GoJet Airlines, Republic Airways and CommuteAir.
Many of those regional carriers operate to smaller communities on behalf of major US carriers such as Delta Air Lines, American Airlines, United Airlines and Alaska Airlines.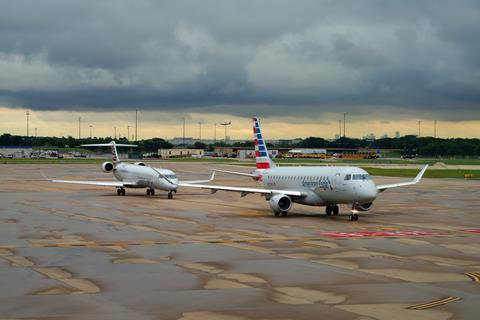 Of the regional jets in storage, 312 are Bombardier CRJ900s, 700s, 200s and 100s; 31 are De Havilland Canada DHC 8-400s operated by Horizon Air; and 140 are Embraer jets.
Carriers could have many reasons for storing aircraft. But the figures starkly illustrate the widespread struggles of the regional airline industry, which has been at risk of collapse in recent months, according to industry group Regional Airline Association (RAA).
In December, RAA said that a similar number of regional jets were parked in the USA, suggesting the pilot shortage – which affects regional airlines most acutely – has not been alleviated. The general shortage of flight crews has prompted major carriers to poach captains and first officers from their regional counterparts – magnifying the issue for regional jet operators.
Consulting firm Oliver Wyman recently noted in its annual fleets forecast that more than 900 regional jets are currently parked across North America and Western Europe.
Notably, Skywest – the largest regional carrier in the USA – has 118 CRJ jets currently not operating, according to Cirium. And Endeavor Air, which flies on behalf of Delta Air Lines, has 98 CRJs in storage.
Between PSA Airlines and Piedmont Airlines, which both operate on behalf of American Airlines, 45 CRJs are grounded. Fellow American operator Envoy has 64 Embraer ERJ-145s on the ground.
Air Wisconsin has 16 CRJ200s in storage, while United's regional carrier CommuteAir has 42 ERJ-145s out of operation.
Phoenix-based Mesa Airlines – which recently separated from longtime partner American Airlines in favour of a new deal with United Airlines – currently has 43 CRJs stored. Mesa began operating CRJ900s for United as United Express in March and expects to have transitioned all of its regional jets to United's network by next month.
As regional jets remain parked, many routes between mid-sized cities are being picked up by narrowbody operators, such as discount airline start-ups Avelo Airlines, Breeze Airways and most recent market entrant Red Way. A new ultra-low-cost carrier, Red Way plans to plans to launch charter flights this summer from Lincoln, Nebraska to seven US cities with a fleet of multi-class Airbus A320s and A321s.
And Avelo's strategy is based on targeting cities with limited air service and secondary airports near major urban centres – essentially filling the role of regional jets – with its fleet of Boeing 737NGs.
Regional jets may be in long-term decline – at least in western countries. The global fleet of regional aircraft is projected to grow only modestly by 2033, with deliveries of new aircraft (1,400) barely outpacing retirements (1,200), according to an analysis by Oliver Wyman.
The number of regional jets in North America and Western Europe is expected to decrease to roughly 1,700 from 2,100 over the next decade, Oliver Wyman says, whereas the global fleet of narrowbody jets is expected to expand rapidly over the next 10 years – to about 23,400 from 16,400 aircraft.