Scandinavian start-up Norse Atlantic Airways has released images of the first aircraft to feature its longship livery.
The ex-Norwegian Boeing 787-9 – with the registration LN-LNO – is one of six the airline plans to lease from AerCap, alongside three 787-8s. It is named after Norway's Raet national park.
In Norwegian's colours, the aircraft's tail featured late British novelist Roald Dahl.
The carrier also intends to lease six further 787-9s from BOC Aviation.
Norse Atlantic said earlier this month that it expects to be flying all 15 of its incoming 787s by summer 2022, following a planned commencement of operations in the first half of the year.
Cirium data shows that all of those 787s – which are powered by Rolls-Royce Trent 1000 engines – were originally operated by Norwegian.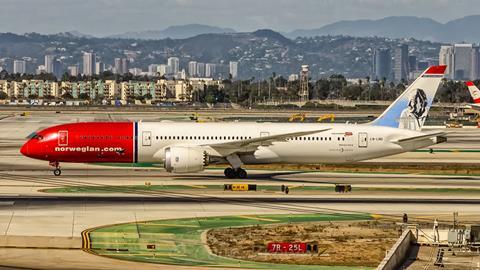 In launching low-cost long-haul fights between Europe and the USA, Norse Atlantic is aiming to step into the gap abandoned by Norwegian during its restructuring process.