Start-up US carrier Northern Pacific Airways, which intends to begin flights later this year, has applied with US authorities to fly between the USA and two Asian countries, initially using jets wet-leased from another carrier.
"Northern Pacific intends to start scheduled service between Anchorage… and Korea and Japan," both of which have so-called "Open Skies" air service agreements with the USA, the Anchorage-based company says in an 18 May filing with the Department of Transportation (DOT).
The flights will initially be operated "via a wet lease with a certificated US air carrier, and subsequently with its own crews and B757", Northern Pacific says.
"Wet lease" suppliers provide aircraft, crew, maintenance and insurance.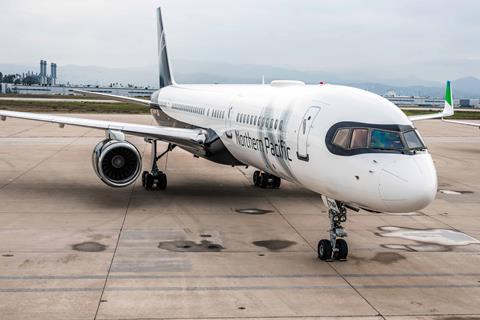 Northern Pacific did not specify from which air carrier it intends to take the aircraft, or how many, or for how long. The airline did not immediately respond to a request for additional information.
Plans for Northern Pacific, wholly owned by regional carrier Ravn Alaska's parent, Float Alaska, which acquired Ravn's operations out of bankruptcy last year, were made public in June.
The airline's business model seeks to replicate across the Pacific Ocean what Reykjavik-headquartered Icelandair does over the Atlantic. For years, the Icelandic flag carrier has used its island base about midway between North America and Europe to offer low-fare flights between the two continents, with the option for stopovers.
Like Icelandair, Northern Pacific intends to sell seats for cheaper than those on direct flights, chief executive Rob McKinney told FlightGlobal last October, noting that most aircraft flying North America-Asia routes already follow northerly paths taking them near Alaska's largest city.
The airline revealed its livery on its first Boeing 757-200, a 27-year-old airframe that was initially used by now-defunct US Airways, on 18 January. It has said it intends to launch revenue flights in late 2022.