Restructured low-cost carrier Norwegian has struck a preliminary agreement to acquire 50 Boeing 737 Max 8 for delivery from 2025 through to 2028.
Norwegian says it has reached an agreement in principle subject to various closing conditions to acquire 50 Max 8s, together with options on a further 30, and hopes to conclude a deal by the end of June. The airline says the order will result a "limited net increase" in the airline's current fleet.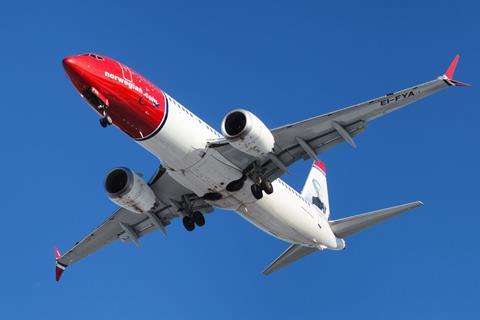 Norwegian chief executive Geir Karlsen says: "The overall terms achieved are attractive for Norwegian, and the deal fits well with our long-term fleet strategy and route programme. It will enable us to serve our customers with modern fuel-efficient aircraft with the latest technology, significantly reducing our carbon footprint."
The airline was an early Max customer and flew 18 of the jets prior to the type's grounding in 2019. However during a major restructuring, which included the axing of transatlantic routes on which some of its Max deployed, the airline scaled its fleet back to just Boeing 737-800s and scrapped an order for 92 more Max jets.
Since completing its restructuring, and with the lifting of Covid travel restrictions, Norwegian has been rebuilding its fleet. While that comprises predominantly 737-800s, it has more recently begun adding some Max aircraft alongside a small number of Airbus A320s. The airline plans to operate a fleet of 70 this summer and to lease a further 15 Max jets to reach 85 aircraft for summer 2023.
Karlsen adds: "The deal will also strengthen the company's equity considerably, further solidifying Norwegian's financial position,"
Norwegian says it intends to finance the outstanding balance of pre-delivery payments through positive cash flow from operating activities and that a significant share of the aircraft will be owned by the company.
It says subsequent to the conclusion of these agreements, it estimates to record a net gain of approximately NKr2 billion ($211 million).
Norwegian chair Svein Harald Oygard says: "This is a landmark deal that sets out a path whereby Norwegian will own a large share of its fleet. This will result in lower all-in costs and increased financial robustness, enabling us to further solidify our Nordic stronghold."