Restructured low-cost carrier Norwegian plans to increase its fleet to 50 short-haul aircraft this year and 70 aircraft next year, assuming travel restrictions ease.
The airline, which will focus on short-haul operations after axing its long-haul flights as part of a major restructuring, has been operating nine aircraft since the turn of the year amid continued widespread travel restrictions.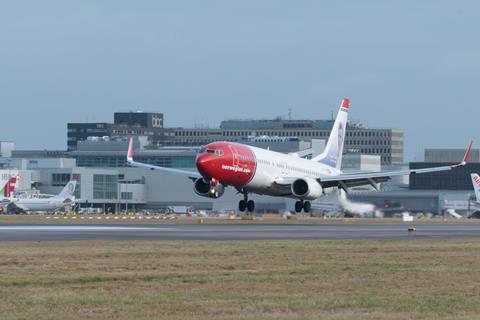 In a trading update today, the carrier says it doubts short-haul air travel demand will return to pre-crisis levels before 2023 or 2024.
Norwegian chief executive Jacob Schram says: "The impact on our business as a result of international travel restrictions, that have continued throughout this quarter, are as expected. However, during this difficult period Norwegian has continued to reach a number of milestones that will secure our future and ensure that the airline remains a key competitor in the European market.
"As European vaccination programs gain momentum and travel restrictions begin to ease, a new Norwegian with a solid financial foundation will be ready for our customers."
Norwegian carried just 210,000 passengers in the first quarter – 96% fewer than in the same period in 2020. Revenues slumped 96% for the quarter to NKr255 million ($31 million), though the carrier points to a 5% increase in unit revenue.
The carrier reports an operating loss of NKr1.5 billion for the first quarter, an improvement on the NKr2.1 billion it lost at the same stage last year. Pre-tax, Norwegian lost Nkr1.2 billion, compared to a Nkr3.3 billion loss in the first quarter of 2020.
Norwegian has been in formal restructuring, in Ireland and Norway, since late 2020. The carrier secured approval from courts for a restructuring plan that includes a rights issue to raise additional working capital and equity.