Norwegian has cancelled orders for 97 Boeing aircraft including examples of the troubled 737 Max and the 787 Dreamliner, and is claiming compensation for financial losses related to the two types.
The Oslo-based low-cost carrier, which went into self-described "hibernation mode" at the outbreak of the coronavirus crisis three months ago, said on 29 June that it was terminating orders for 92 737 Max and five 787s, as well as the GoldCare service agreements related to the two types.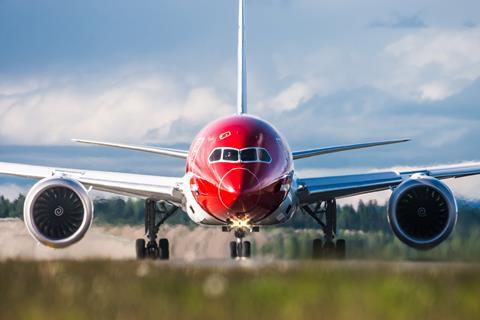 "Norwegian has in addition filed a legal claim seeking the return of pre-delivery payments related to the aircraft and compensation for the company's losses related to the grounding of the 737 Max and engine issues on the 787," the airline states in a Norwegian stock exchange filing.
It claims the worldwide grounding of the Max as well as the "long-running reliability issues [of the 787]… resulting in premature and unplanned maintenance which has disrupted the company's operations" have "caused significant losses" for the airline. Norwegian's 787 fleet is powered by Rolls-Royce Trent 1000 engines.
The carrier adds that it has been negotiating with Boeing, but that this dialogue has not yet "led to an agreement with a reasonable compensation to the company".
The announcement came on the day that the US Federal Aviation Administration (FAA) began flight testing the 737 Max with the goal of recertification in the coming weeks.
The FAA's first certification flight took place between Seattle's Boeing Field and Moses Lake, Washington, about 120nm (216km) away. The FAA said that it expects the testing to take three days and will include a wide array of flight manoeuvres and emergency procedures to assess whether the changes to the aircraft's automated flight control system meet certification standards.
The Max was grounded in March 2019 following two separate accidents which killed 346 passengers and crew.
Norwegian, which is currently in a financial restructuring process, said last week that it has begun to reinstate flights as it reopens short-haul European links from Scandinavia following a nearly hundred-day hiatus during which it grounded about 95% of its fleet due to the coronavirus pandemic.
The low-cost airline has been operating only a network of 13 domestic routes since the pandemic hit, using just eight aircraft. But it now plans to bring in 12 more aircraft and expand its network to 76 routes across Europe from its Scandinavian hubs beginning next month.