Part of the global Airbus A380 fleet has been an early victim of the coronavirus health pandemic, with several operators quickly moving to store some or all of their aircraft.
According to Cirium fleets data, there were 241 A380s in service and storage as of mid-March. Included in this are Korean Air's 10 A380s, which it immediately parked as part of the grounding of 100 of its 145 aircraft, amid the traffic slump.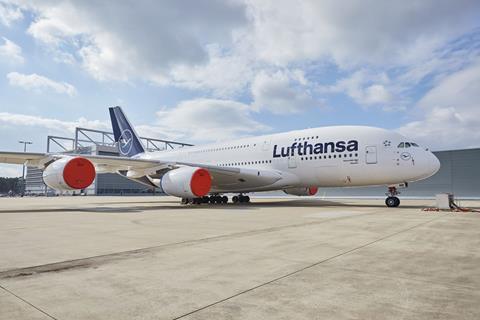 Qantas has grounded eight of its 12 A380s for six months, as part of a move to cut capacity by nearly a quarter through to September. Only two A380s will remain flying, as two others are undergoing scheduled maintenance and cabin upgrades.
Lufthansa, which operates 14 A380s, is considering parking its entire superjumbo fleet as part of a potential 50% reduction in capacity over the coming weeks.
Air France began reducing its 10-strong A380 fleet just prior to the crisis, with one of four aircraft already earmarked for retirement being flown to Knock in Ireland in February. Further early fleet cutbacks are believed likely.
Emirates is by far the most exposed A380 operator, with its fleet numbering 115 aircraft. It is reportedly seeking to slow the arrival of the remaining eight aircraft it has on order.
IAG's outgoing chief executive Willie Walsh highlighted the risks that A380 operators could face in the event of a traffic crisis when discussing fleet scenarios during an interview with FlightGlobal in 2016.
While commenting that the British Airways/Iberia parent could "make a case for a few more" A380s, Walsh added: "One of the issues we're always conscious of is flexibility in the event of an economic downturn. The A380 wouldn't work on every part of our network, so from that point of view we'd be less ambitious [in fleet size] than Emirates would be."