Philippine Airlines (PAL) expects to firm up a potential order for more widebody aircraft in the coming months, as the airline eyes a profitable year amid strong travel demand.
In comments first published in local media and later confirmed by the airline, PAL chief Stanley Ng says that the airline plans to "revisit" its orderbook, and is looking at more aircraft, specifically the larger A350-1000.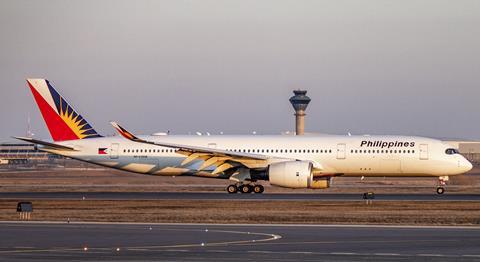 PAL is an existing operator of the A350-900, and has two examples in its fleet, according to Cirium fleets data. The airline previously operated up to six -900s, but cut its fleet size amid a business restructuring.
Ng, who was speaking a media event for the airline's 82nd anniversary, did not indicate how many aircraft it was looking to order. It is not the first time the airline has expressed interest in the larger variant: in 2018, two years after it first committed to six -900s, the airline said it was keen to add -1000s to its fleet.
Ng also told reporters the airline will reactivate seven parked jets by the end of the year, bringing its fleet of to 75 in-service aircraft. The airline also confirms it will also be taking delivery of 13 A321neos through 2026.
"The [capital expenditure] might be almost double because of the all the improvements that we want to invest in, including system upgrades, customer relationship management systems," Ng was reported as saying.
Ng adds that the airline is "optimistic" about a profitable 2023, noting that the airline's financial results for the quarter to 31 March were "positive", as international and domestic travel demand remain robust. The airline has been profitable for most of 2022, its first full year since exiting restructuring in late-December 2021.