After announcing an order of 30 Embraer 195-E2 jets in addition to a route expansion, Canada's Porter Airlines says it has cancelled an earlier letter of intent to acquire a similar number of Airbus A220s.
"Porter no longer has a conditional order with Airbus," the Toronto-based airline confirms on 12 July.
"The A220 and E2 are both great aircraft. We looked at all of the aircraft options available today and chose the E2 for a number of reasons, including the ability to meet our preferred delivery schedule starting next year," Porter adds.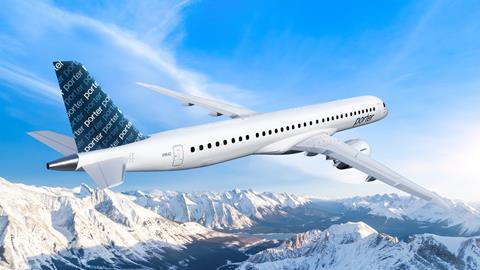 In addition, the airline says 37% of the Embraer aircraft's major components are produced in Canada, making the new order a sizeable investment in the country's aerospace industry.
Earlier in the day, Porter disclosed it had ordered 30 E195-E2s and taken options to acquire a further 50 of the Brazilian jets.
Porter intends to take delivery of its E195-E2s from the second half of 2022.
The carrier, which ceased operations completely during the coronavirus crisis, aims to restart on 8 September.
Since beginning operations in 2006, Porter has flown only De Havilland Canada Dash 8-400s, of which it has 29, according to Cirium fleets data. It primarily operated those aircraft on regional Canadian routes from Toronto's secondary airport, Billy Bishop. The airline operated to some US destinations, but only as far south as north Florida.
Porter "remains committed to Billy Bishop airport and will continue with high-frequency regional service on turboprop aircraft", it says. But, the new jets it will likely begin flying from the Toronto's primary airport, Pearson International.
"Billy Bishop is essential to Porter's immediate plans for re-establishing service during the pandemic recovery phase, as well as developing future routes," the carrier says. "The E-195 E2 will not operate from Billy Bishop airport. We are considering options to base the new aircraft at a combination of Ottawa, Montreal, Halifax and Toronto Pearson."
Porter was among early customers to sign up to purchase A220-100s – when the programme was still owned by Bombardier and known as the CSeries. Airbus bought the programme in 2018 and rebranded it. Those jets can carry 100-135 passengers and have 3,450nm (6,210km) of range.
Powered by Pratt & Whitney PW1900G turbofans, E195-E2s can carry 120-146 passengers and have 2,600nm range.
The jets have range to serve destinations throughout North America, including the West Coast, and Mexico and the Caribbean, Porter says, adding it will announce specific routes for new aircraft before it takes delivery of the first example in the second half of 2022.
Embraer had previously disclosed Porter's 30-aircraft order but had not named the customer. The deal, including options, is worth $5.8 billion at list prices and will make Porter the launch customer for the E195-E2 for North America, Embraer said.