Brazilian airframer Embraer and Canadian regional carrier Porter Airlines have agreed to a 20-year aftermarket support deal.
The San Jose dos Campos-based company says on 5 August that the agreement includes airframe heavy maintenance checks, technical solutions and access to Embraer's "pool programme", which includes component exchanges and repair services.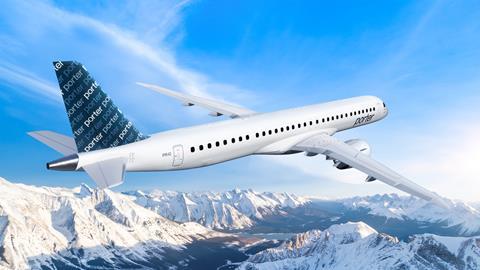 Last month, Toronto-based Porter, which has been dormant since the beginning of the global coronavirus pandemic in early 2020, ordered 30 E195-E2s and took options to acquire a further 50 of the jets, while also announcing plans to expand to Toronto's Pearson airport and to southern warm-weather destinations beyond the range of the carrier's traditional regional services.
The news marked a major fleet and network shift for Porter, to date an all-turboprop operator that never served Pearson and that previously planned to acquire Airbus A220s, not E195-E2s.
"This service agreement with Embraer is fundamental to Porter's operational success," says Porter chief executive Michael Deluce. "During this very important moment in Porter's history, Embraer's expertise and support is crucial as we start operations with the E-Jets E2, since no one knows these planes better than the manufacturer."
Porter aims to restart operations in September, after numerous delays, and deliveries of the new aircraft are set to begin in the second half of 2022. The airline has not disclosed how many seats it will install in the jets, but Embraer says "configuration plans for Porter's E2s will be revealed in due course".
The pool programme services will be provided by Embraer Aircraft Customer Services in Fort Lauderdale, while the heavy maintenance services will be performed by Embraer Aircraft Maintenance Services in Nashville, Embraer says.