Qantas will decide which aircraft will replace its domestic narrowbody fleet by the end of the year, and is considering options such as Boeing's 737 Max, as well as Airbus A320neo family jets, A220s and Embraer E-Jets.
The carrier says it has entered "the final stages of a formal tender process" with airframers and engine manufacturers on the "long-term renewal" of its narrowbody fleet.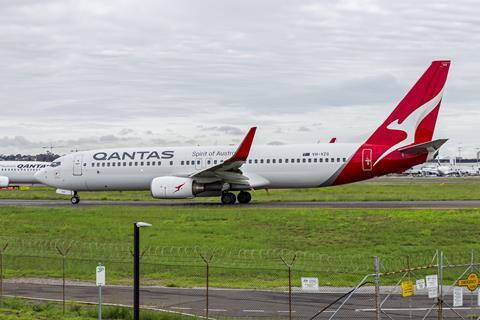 It expects to firm up orders by mid-2022, which could amount to "more than 100" new aircraft, slated for delivery from end-2023 through 2034.
The new aircraft will replace its current fleet of 75 737-800s, which are between seven and 19 years old, as well as 20 717s, aged 15-22 years old.
"The tender process includes detailed evaluation of the aircraft against four key criteria: safety, reliability and performance, sustainability and emissions reduction, and commercial terms," says Qantas.
The Oneworld carrier first hinted that it was evaluating replacements for its narrowbody fleet in February 2020, as part of its half-year financial results. In an investor presentation slide, it had listed then that the A220, E-Jets, A321LR as well as the 737 Max were "under evaluation".
Qantas chief Alan Joyce will meet Airbus, Boeing and Embraer, as well as enginemakers at the IATA Annual General Meeting currently held in Boston, the airline says.
Joyce, who notes that the fleet renewal programme was a "key milestone" for the airline group, says: "The aircraft we're considering have been in service for several years, which gives us the confidence that they've gone through rigorous troubleshooting by the time they enter our fleet. They're new, but they are known quantities."
Adds Joyce: "Our approach is always to have the right aircraft on the right route, which really means balancing the size of the aircraft with the demand in each market. The mix of aircraft we're considering means we'll have more operational flexibility, which for customers translates into more direct routes to smaller regional centres and more choice of flights throughout the day."
Joyce also hinted that the airline had not abandoned Project Sunrise — the moniker for its ultra-long-haul non-stop flights from eastern Australia to the UK and the US east coast.
The airline will "be picking up where we left off", and hopes to commence these flights as early as 2024.
Qantas Group also holds an existing orderbook of 109 Airbus A320/321neo aircraft, which it says will "predominantly go to" low-cost unit Jetstar. The first aircraft will be delivered to Jetstar in the second half of 2022.