Qantas Group is to add used and wet-leased narrowbodies over the next two years, as part of near-term measures to mitigate aircraft delivery delays while boosting capacity.
The airline group, which comprises mainline operator Qantas and low-cost unit Jetstar, will also boost its Airbus A220 orderbook by exercising options for nine examples.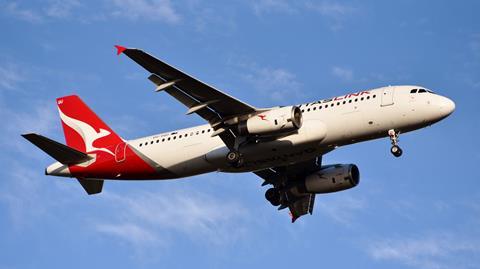 Outlining its fleet strategy for the near-term, Qantas says the additional aircraft will "help restore capacity faster and meet strong demand from leisure travel, resources and domestic freight markets."
The disclosure comes as Qantas faces delays in taking delivery of new aircraft. Says Qantas Group chief Alan Joyce: "Aircraft manufacturers are seeing the same supply chain delays as a lot of other industries and we've been told that some of our deliveries will be pushed back by up to six months."
Joyce adds: "When you combine the delays with the sustained growth in travel demand that we're seeing, we need to find other ways to lift capacity in the short and medium term."
Delivery delays for new narrowbodies at Jetstar have disrupted the "pipeline" of older jets meant for Qantas' other operations, notes Joyce.
To this end, Qantas will acquire five second-hand A319/320s to beef up its Western Australia resources charter operations, with deliveries to commence from July this year. Perth-based Qantas unit Network Aviation currently has 11 A320s in service, Cirium fleets data shows.
It will increase the number of Embraer E190s wet-leased from compatriot Alliance Airlines. Under a new lease agreement, Qantas will have access to 30 E190s, up from the current 18 jets, all of which are deployed.
Wet lease terms for the E190s have also been extended from three to seven years, with two-by-two year lease extension options available.
On the cargo front, Qantas will acquire three second-hand A321P2F converted freighters to "accelerate renewal of Qantas Freight fleet".
The airline's cargo unit is already an existing A321P2F operator, and was the type's launch customer in 2020. Deliveries of the A321P2Fs will run from 2024 to 2025, states Qantas.
Jetstar Asia, the group's Singapore-based low-cost carrier, will add two more used A320 to its fleet – its first fleet expansion since the pandemic. The two aircraft are expected to arrive mid-2023, taking the airline's fleet to its pre-pandemic size of nine A320s.
The fleet update follows the release of the group's half-year earnings, where it swung to a record profit on a strong rebound in travel demand.