Qantas has ordered six more Airbus A321 passenger-to-freighter (A321P2F) aircraft, amid what it calls a "step change" in domestic cargo demand.
The six aircraft are expected to be delivered between 2024 and mid-2026, and will be "sourced on the open market and converted from carrying passengers to cargo", says the airline.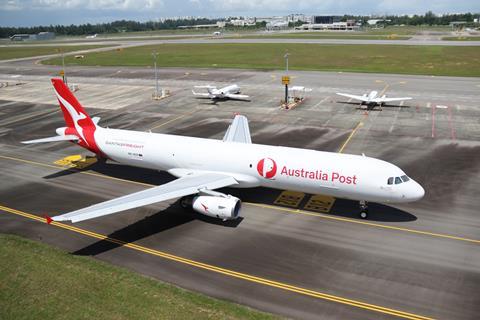 They will replace Qantas Freight's aging fleet of five Boeing 737-300 and -400 freighters, which are between 32 and 35 years old.
Qantas Freight was the first in the world to operate the A321P2F in 2020 and now has three examples in its fleet.
"Each A321 freighter can carry 23t of cargo, 9t more than the older 737s, and are around 30% more fuel efficient per tonne of freight carried," says the carrier.
The announcement on 15 August follows the airline's plans to convert two A330s into freighters, which it first disclosed in December 2021. One of the two jets will be deployed on domestic cargo flights, says Qantas.
Airline chief Alan Joyce says: "Qantas Freight plays a vital role in Australia's supply chain and this investment will grow our operations so they can support increased demand for next-day deliver. This is one of the largest ever investments in our domestic freight fleet, that will enable Qantas Freight to capture more of that demand and will provide the opportunity to help [Qantas Freight] further grow revenue and earnings."
The airline's cargo operations has had a "record performance" during the pandemic, amid a shift towards online shopping and e-commerce, as well as higher yields on international cargo flights.