Qatar Airways has begun operating its Boeing 787-9 fleet, putting four of the long-haul twinjets into service.
Cirium fleets data shows that the Oneworld member's four active 787-9s (registered A7-BHA/B/C/D) were delivered in December last year, as were another three that remain in storage (A7-BHE/F/G).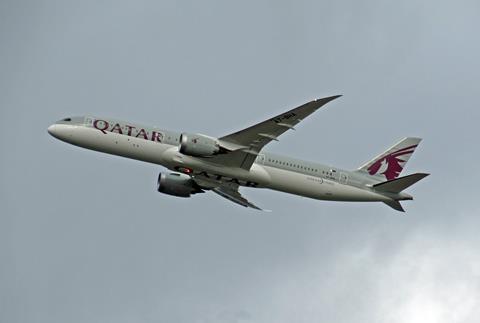 Doha-based Qatar Airways says the in-service 787-9s are "ferrying cargo" on "several European routes, including Copenhagen, Brussels and Oslo, as well as some Middle East and Asian routes".
The Gulf carrier, which has a further 23 787-9s on order, last month took delivery of a trio of Airbus A350-1000s. These were the first long-haul jets the European airframer had handed over to Qatar Airways for eight months.
Cirium fleets data shows that 18 A350-1000s are among the 191 aircraft the airline has in service, alongside 75 777s, 34 A350-900s, 30 787-8s, 24 A320ceo-family jets, four A330-200 Freighters and two 747-8Fs, plus the four 787-9s.
Qatar Airways' 10 A380s are all in storage, as are another 40 of its aircraft: 21 A330s, 10 A320ceo-family aircraft, three 777s, two 737 Max 8s, one A350, and the three 787-9s,