Qatar Airways has been confirmed as the seller of four Airbus A330-200 freighters to the new air cargo division of French container logistics and shipping giant CMA CGM.
AFG Aviation Ireland, a wholly owned subsidiary of Aircraft Finance Germany, arranged the sale of the aircraft (MSNs 1688, 1708, 1584 and 1594) to CMA CGM Air Cargo in two phases last month.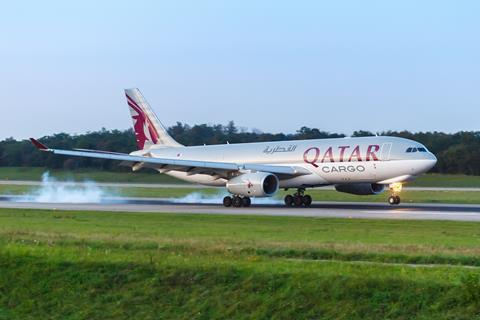 CMA CGM disclosed in February that it was branching into dedicated air freight operations with the introduction of services using four A330-200Fs.
It stated that the move was intended to address its customers' "growing demand" for "agile solutions" but it did not, at the time, identify the source of the aircraft.
Christian Nuehlen, chief executive of Aircraft Finance Germany, states: "Obviously, we are more than pleased with the outcome and that we managed to successfully conclude this transaction amidst a challenging pandemic environment.
"The air cargo market presents strong potential going forward and these four aircraft will play a vital role in the years to come."
CMA CGM is to open services with its initial A330-200F on 8 March, with operations from Liege to Chicago.
Air Belgium is to operate the aircraft, and a blocked-space agreement is being developed with CEVA Logistics.
This initial A330 freighter will be supplemented by a second of the type on 16 March, which will also serve the US market, says CMA CGM.
"These initial destinations in the USA demonstrate our desire to offer our clients international coverage, serving the biggest freight airports in the heart of major economic areas," says the company's air cargo director Xavier Eiglier.
ECS Group will be responsible for marketing the new air cargo services.
Additional reporting FlightGlobal