Regional jets are likely to become an important tool for some of Europe's mainline carriers as the recovery from the Covid-19 crisis begins, according CityJet chief executive Pat Byrne.
"Airlines will be anxious to preserve slots," he said during a CAPA Live event today. "They will be anxious to protect market position [and] they will be anxious to defend routes they previously had… The tactical weapon for doing that is the regional jet."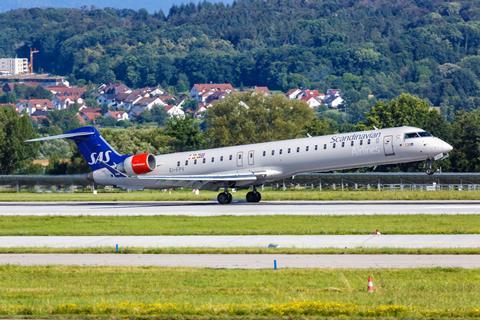 Aircraft the size of the Irish wet-lease operator's Bombardier CRJ900s will therefore "be most in demand, soonest", Byrne believes, because "loads will be light" and airlines will have a "very critical eye" on trip costs.
With no aircraft of that gauge "in their armoury", mainline operators will do "the obvious thing" and "wet-lease it in", he states, rather than uneconomically deploying larger types from their own fleets.
In support of this view, Byrne cites North America, where CRJ900s, CRJ700s and Embraer 175s are "the aircraft that are back in the air first".
CityJet has spare wet-lease capacity after four of the carrier's five contracts with airlines "literally evaporated" last year during the first wave of the pandemic, Byrne recalls, as customers "invoked force majeure" amid a near-total collapse in air travel.
Almost overnight, Air France, Aer Lingus, Brussels Airlines and Lufthansa withdrew their business with the operator.
"SAS did not, thank God, because we recognised that we had a mutual dependency on each other, because we were responsible for an enormous proportion of their regional network," says Byrne.
But with a drastically reduced customer base, CityJet emerged from an Irish Examinership process in August, "a hell of a lot lighter than we were".
The carrier had entered Examinership – a process in Irish law under which companies can protect themselves from creditors while they restructure – in April.
Byrne explains: "It had a dramatic impact on us. We lost more than a third of our fleet, we lost nearly 60% of our human resources, so that was difficult.
"But we survived and we're alive. We're operating a small number of our aircraft at the moment and hopefully progressing beyond that in the next few months."
CityJet states that it has 20 CRJ900 jets in its fleet, operating from bases in Copenhagen and Denmark.
In November last year, the carrier withdrew the last of its BAE Systems Avro RJ85 regional jets, ending a 27-year association with the type and its predecessor, the BAe 146.
CityJet stopped operating its own scheduled services in October 2018, to focus on wet-lease flying.