Embraer has stripped 31 E175s from its backlog after US regional carrier Republic Airways apparently cancelled the orders.
The Brazilian manufacturer confirms Republic has reduced the number of E175s on order from 100 to 69, reflecting what Embraer calls a joint decision between the companies.
"In agreement with Republic Airways, we have removed 31 E175 orders from our backlog," Embraer told FlightGlobal on 8 November. "Terms on this legacy order from 2018 were no longer suitable for either party."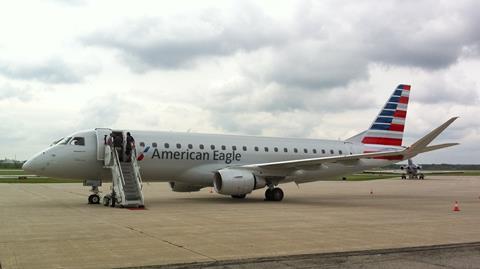 Republic, with offices in Indianapolis, did not immediately respond to a request for comment. Contracting with major US carriers American Airlines, Delta Air Lines and United Airlines, Republic operates a fleet of some 200 Embraer jets from bases in Boston, Charlotte, Chicago, New York and elsewhere.
Amid an acute, industry-wide pilot shortage and rising operating costs, US regional airlines have been struggling to recover from the pandemic-related slump in airline travel.
Embraer's 7 November orders and deliveries report for the third quarter shows a backlog of 103 E175s at 30 September, down from 143 on 30 June. The airframer also shipped nine E175s during the quarter.
In 2018, Republic ordered 106 E-jets from Embraer – six of which have already been delivered. Another 17 are expected to be delivered during the next 12 months, the airframer says.
The companies "jointly decided to scale back the total order size to 75 units", Embraer says. "For Embraer, this frees up urgently needed slots for [the] E195-E2 and E190-E2 in 2023 and 2024."

Sao Jose dos Campos-based Embraer delivered 33 commercial and business aircraft in the third quarter of 2022, a slight year-on-year improvement that still leaves the company trailing its 2021 output.