Ryanair plans to purchase further Boeing 737 Max aircraft once the aircraft returns to service, in addition to taking delivery of the 210 it has already has on order or under option.
"We are already in discussions with Boeing," group chief executive Michael O'Leary said today during a conference call on third-quarter earnings. "We have an offer on the table for an order for new Max 10s, which is a 230-seat aircraft." This would represent a change in variant from "Max 200s" – 200-seat Max 8s – that the low-cost carrier currently has on order.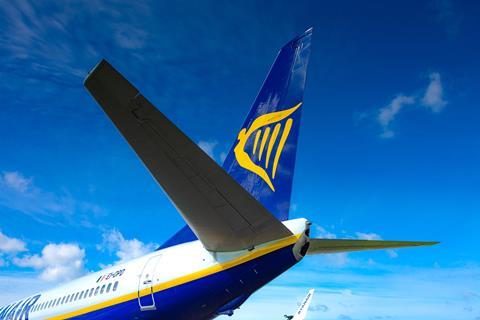 Once Boeing management is in a position to discuss new purchases, Ryanair expects "to be at the head of the queue", says O'Leary.
Discussions with Boeing about a repricing of the airline's existing Max order and reimbursement for costs and losses are continuing; Ryanair has meanwhile frozen pre-delivery payments. However, the issues cannot be resolved until the uncertainty surrounding the aircraft's return to service has cleared.
Despite these difficulties, if you "look through the noise" the Max remains "a great aircraft", argues O'Leary, noting that it provide the airline with 4% more seats than its Boeing 737NGs and a 16% fuel saving. Ryanair's senior pilots have flown the Max in simulators, giving him full confidence in the equipment. "It handles brilliantly and customers are going to love it," he asserts.
Because Ryanair is focused solely on its operations during the busy summer months, the airline has put off taking delivery of any new Max jets until winter 2020, after "hopefully" seeing the aircraft return to the skies with other airlines by June. Because of the complexities and potential disruption from taking delivery of large numbers of aircraft, Ryanair does not expect to receive more than eight Max jets in any single month and will have no more than 50 of the aircraft, in total, for the next summer peak.
However, the Max's entry into service will be helped by the fact that Ryanair owns a couple of flight simulators, O'Leary points out. Boeing recently updated its guidance and now recommends that simulator training take place to enable 737NG pilots to operate the 737 Max.
Ryanair had originally been due to receive its first Max 8 in April 2019, and the absence of the aircraft from its schedules has had a significant impact on its operational performance. For full-year 2021 it expects to carry around 156 million passengers, down from 162 million without the Max issue. This will push the airline's target of flying 200 million passengers back a year to 2025 or 2026.
O'Leary notes that seven bases have already been closed across Europe because of a lack of aircraft capacity amid aircraft delays. When asked whether further bases could be closed, Ryanair group finance chief Neil Sorahan responds: "It can never be ruled out."
The carrier made a pre-tax profit of €82 million ($91 million) in the quarter ended 31 December 2019, compared with a loss of €84 million in the same period of 2018.
Ryanair has 135 Max jets on firm order and holds options on a further 75.