European low-cost carrier Ryanair has ordered 75 more Boeing 737 Max aircraft, lifting its firm commitments to the type to 210.
The airline announced the fresh deal during a joint press briefing with Boeing today. It comes shortly after US regulators cleared the Max jet to resume services after its 20-month grounding and marks the first fresh commitment for the type since the FAA's approval.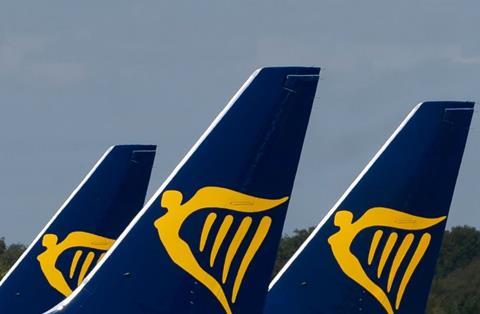 The carrier was originally set to take delivery of its first Max 200 – a specially-configured higher-density version of the twinjet, which Ryanair is calling the Max-8200 – just before the grounding of type in the spring of 2019. Ryanair today says deliveries will begin in "early" 2021.
"Ryanair and Boeing have agreed revised delivery dates, and have also agreed compensation for the direct costs incurred by Ryanair over the past 18 months due to these delivery delays, although some of this compensation has been factored into a modest reduction in the pricing of this new aircraft order which has encouraged Ryanair to increase the firm order from 135 to 210 aircraft," the airline says.
Ryanair chief executive Michael O'Leary states: "We are going to compress that order so we are going to take them faster. We hope to take delivery of at least 50 of these aircraft in 2021, subject to Boeing recovering its manufacturing output to deliver them."
Ryanair initially ordered 100 firm 737 Max 8s in 2014 – along with 100 options It has since added 35 more firm commitments for the type. It also held 75 Max options.