Ryanair expects to receive a total of 12 Boeing 737 Max 8-200s during the summer season, following the delivery of its first example of the type today.
Six of those jets will be in Ryanair mainline colours and six in the livery of Malta Air. Ryanair then plans to receive an additional 50 of the type – which the carrier refers to as the "game-changer" – before Summer 2022.
"These new Boeing 737 aircraft will help Ryanair lower costs, cut fuel consumption and lower noise and CO2 emissions as we invest heavily in new technology to deepen our environmental commitment," says group chief executive Michael O'Leary.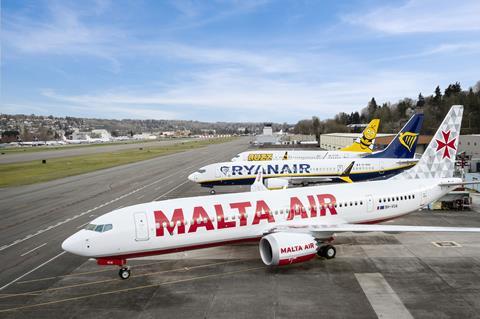 He further notes that the delivery schedule will enable Ryanair "to rebound strongly, offering new routes, lower fares and rapid traffic recovery to many partner airports across Europe as the tourism industry rebuilds from the devastating impact of the Covid-19 pandemic in 2020/2021".
Ryanair's first 737 Max 8-200 – a high-density variant that has 197 seats and an extra pair of exit doors – is due to land in Dublin today at around 18:00 local time following a flight from Boeing Field in Seattle.
O'Leary refers to "regrettable delays" that have seen the airline frequently adjust downwards its expectations for deliveries in 2021, to the point where he suggested in mid-May that Ryanair might not take any Max jets at all this summer.
Ryanair has orders in place for 210 737-8-200 Max aircraft, having firmed up 75 more units in early December 2020.
The operator has not stated when it expects to receive the first example featuring the livery of central and eastern European leisure unit Buzz.