Singapore Airlines Group recently parked another four aircraft – two Airbus A380s and two Boeing 787-8s – at Alice Springs Airport in Australia.
The company tells Cirium it now has a total of 22 aircraft parked there, at Asia Pacific Aircraft Storage.
This comprises seven A380s and three 777-200ERs from the mainline carrier, six 737 Maxes from regional unit SilkAir, as well as four A320s and two 787s from low-cost subsidiary Scoot.
In response to Covid-19's impact on air travel, the group will cut approximately 94% of passenger capacity originally scheduled for July. Out of the SIA Group's fleet of about 200 aircraft, 25 are deployed on passenger services, it says. Its fleet of seven freighters are operating as normal, while about 30 passenger aircraft have been deployed on pure cargo services.
"As a result, Singapore Airlines [Group] has parked a large number of its aircraft at Singapore Changi Airport, with a few aircraft parked overseas. The aircraft are parked in locations where they can be appropriately maintained during this period. We will continue to monitor the situation and, when appropriate, will return the aircraft to Singapore ahead of reintroducing them to our operations."
It adds: "Singapore Airlines follows the stringent maintenance procedures set by the aircraft manufacturers to ensure that the aircraft remain airworthy while they are parked. Dedicated maintenance teams are looking after the aircraft during this time. "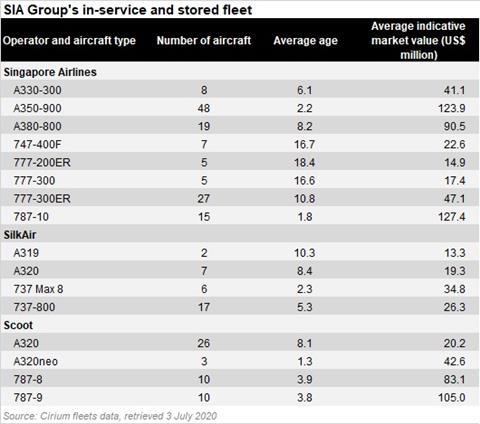 The group is also expecting the return of seven 777-200s it owns, from NokScoot, which is 49% owned by Scoot.
"We are progressively taking back the Boeing 777-200 aircraft as NokScoot does not have the ability to make lease payments. We will make a decision on the aircraft in the near future."
Cirium fleets data show the 777-200s with NokScoot average 18 years of age. These have an average indicative market lease rate of $192,000 and an average indicative market value of $15 million.