Singapore Airlines (SIA) will rely on the Boeing 777-300ER to accommodate delays in the 777-9 programme, and has no plans to reinstate surplus Airbus A380s while it waits for the new type.
The carrier is set to receive its first 777-9s in 2025, which is two years later than planned. The type is to form a partial replacement for the carrier's double decker A380s.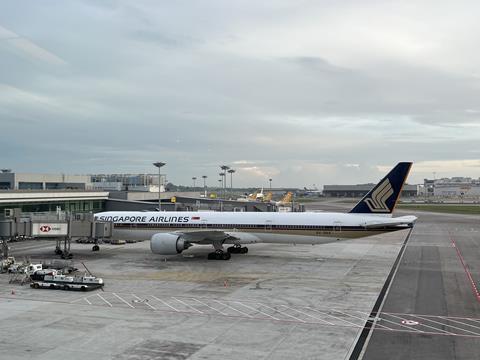 SIA chief executive Goh Choon Phong is confident that Boeing will be able to meet the revised timetable. SIA has orders for 31 777-9s.
"The intention was for the 777-9 to actually replace some of the capacity we lose because of A380s retiring - and some are gone," says Goh.
"From my understanding from Boeing – and you really should ask Boeing these questions – they have built in a buffer even with the 2025 delivery. Now, whether they uses those buffers I really don't know…and you can rest assured that we are constantly in touch."
He adds that he is frequently in contact with "Stanley" – Stan Deal, chief executive of Boeing Commercial Airplanes – about the 777-9.
Goh made the remarks during a media roundtable at the recent Association of Asia Pacific Airline's 66th Assembly of Presidents in Bangkok.
In a separate meeting, Boeing indicated to FlightGlobal that the 777-9 is on track for delivery to SIA in 2025.
SIA has stated that it will maintain a fleet of 12 A380s during the 2020s. Cirium fleets data shows that the airline has 11 in service and six in storage. As for the 777-300ER, the carrier has 18 in service and eight in storage.
Asked whether additional A380s might come back to accommodate the 777-9 delays, Goh had this to say: "No, because we have the flexibility of keeping our 777-300ERs. That is actually part of the flexibility that is built into the fleet plan…it is unfortunate that the 777-9 is delayed, because I'm very proud of the product we have already designed for the aircraft."
He says the delay offers the opportunity to further refine SIA's 777-9 product.
In response to a reporter's question, Goh adds that SIA is not interested in the A321XLR, because its long-haul destinations are better served by widebodies, namely the widebody A350-900. SIA's narrowbody requirements are also supported by its growing fleet of 737 Max 8s, which feature an updated cabin including lie-flat beds in business class.
Goh also touched on SIA's enthusiasm for the new A350F. The carrier confirmed orders for seven examples of the new type at the Singapore Airshow in February. He says that SIA worked with Airbus on specific design features based on its experience as a cargo operator. He indicates that the design suggestions are focused mainly on efficient operations, such as automation and cargo handling.
"These are design details that only operators would know because as a manufacturer of aircraft, you don't know some of these practical things, because during operations human beings are really ingenious. They will come up with ways to overcome [problems], but it's not the best direct way. If you can design it from the start it is much better."