Aircraft lessor SkyWorks Leasing is offering 17 LATAM Airlines Group aircraft for auction.
The aircraft are currently in storage in Victorville, California, and are being sold on an "as-is, where-is" basis via public auction to be held on 14 April, the lessor says on 15 March.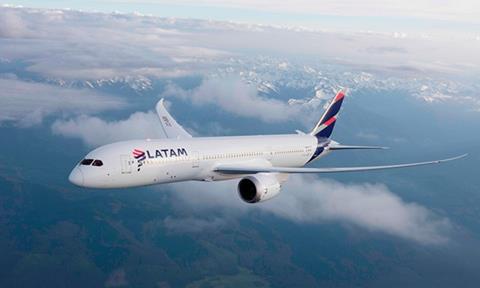 The aircraft to be sold include two Airbus A350-900s, four Boeing 787-9 Dreamliners and 11 A321-200s.
The A321s are committed to long-term leases expected to begin in the second quarter 2021, but the other six aircraft are off-lease, SkyWorks says.
Last week, the Santiago-based carrier reported a $4.55 billion loss for 2020, with revenue coming in at $4.33 billion, a decline of 58.4% from 2019.
It carried 66% fewer passengers and 13% less cargo during the year.
LATAM ended 2020 with 296 aircraft in its fleet and said at the time that it was "evaluating the adequate fleet needs for the following years" as part of its Chapter 11 bankruptcy proceedings, which are ongoing.
LATAM ended 2020 with $1.7 billion in cash and $1.3 billion in a fully committed and undrawn debtor-in-possession financing facility. It had gained bankruptcy-court approval for its DIP financing proposal in September 2020, receiving shortly afterwards the first instalment from its loan of up to $2.45 billion.