Boeing is closing in on the sale of 737 Max 7 jets to Southwest Airlines, a deal that, if closed, would prove a massive win by Boeing and reflect Southwest's continued loyalty to the Chicago airframer, according to a report from Bloomberg.
The news agency says a proposed deal includes the sale to Southwest of dozens of Max 7s – possibly up to 130 of the jets plus options for 170 more.
Bloomberg reported the news, attributed to unnamed people familiar with negotiations, on 10 March.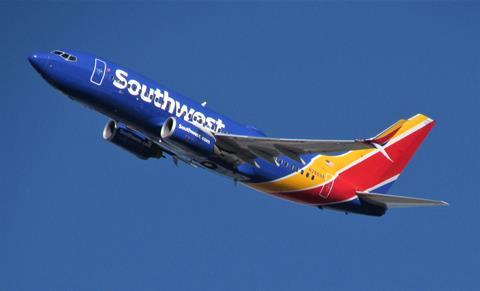 Dallas-based Southwest declines to address the report, saying it does not comment about "future fleet decisions".
However, Southwest notes it has operated only 737s for 50 years, "and have shared consistently our hope to keep that simplicity".
"We've also shared that we consistently evaluate the performance and availability of other fleet types that could potentially work within our strategy and business model," Southwest adds.
Chicago-based Boeing did not respond to a request for comment. The 737 Max 7 has not yet entered service, but Boeing has said it expects to being delivering the type before year end.
Executives at Southwest have in recent years expressed interest in the possibility of branching out to Airbus jets, including A220s, which competes with the 737 Max 7.
But shifting to Airbus would be a major strategic change for Southwest, which has designed its business around efficiencies gained by operating only 737s. The airline's fleet currently includes a whopping 486 737-700s, the 737 Max 7's predecessor, Cirium fleets data shows.
Aerospace analyst Michel Merluzeau with consultancy AIR says Southwest's first choice is almost certainly the 737 Max 7, owing to operational efficiencies. He views the deal as Boeing's to lose, and doubts Southwest would shift to the A220 unless it is unable first to reach an agreement with Boeing.
Boeing has had few customers for its 138-153-seat 737 Max 7 – the smallest variant of the Max lineup. It holds 53 737 Max 7 orders, 28 of them from Southwest, according to Cirium.