Southwest Airlines now anticipates receiving 10 fewer Boeing 737s than previously anticipated.
"In light of recent discussions with Boeing and continued challenges in the supply chain, we now expect to receive roughly 90 aircraft deliveries in 2023 compared to our previous expectation of 100," the carrier's chief executive Bob Jordan said during JPMorgan's 2023 Industrials Conference on 14 March.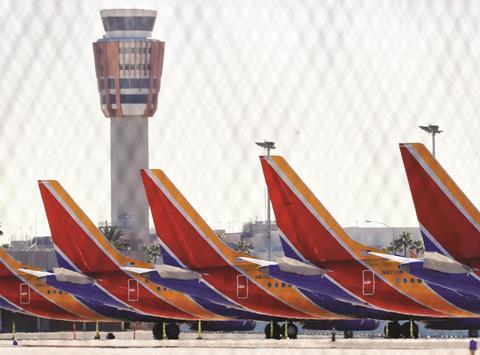 With 27 planned retirements this year, the 90 new Boeing jets would put Southwest's fleet at 833 aircraft, Jordan adds.
In recent months, US carriers have been trimming fleet-growth plans due to delivery delays from Airbus and Boeing, with the airframers pointing to engine shortages as a major snag in the supply chain. Boeing's output has also been limited by the much-delayed certification of its 737 Max 7 and 10, and quality problems with its 787 programme.
As an all-Boeing 737 operator, Southwest has a significant order book with Boeing for Max aircraft. In December, airline converted four of its 737 Max 7 orders to Max 8s. Additionally, the airline in January exercised 10 Max 7 options for delivery in 2024.
Southwest had firm orders of 192 Max 7s and 235 Max 8s, and options for 137 Max 7s or 8s, the company said during its fourth-quarter earnings call on 26 January. Currently, it has 772 airframes in service and 48 in storage, according to Cirium fleets data.