Indian low-cost carrier SpiceJet is to receive a pair of Boeing 777-200ERs, with Indian media suggesting the aircraft are part of its compensation from Boeing for the long grounding of the 737 Max 8.
An industry source confirms that the airline will get a pair of 777-200ERs, but the timeline is not clear.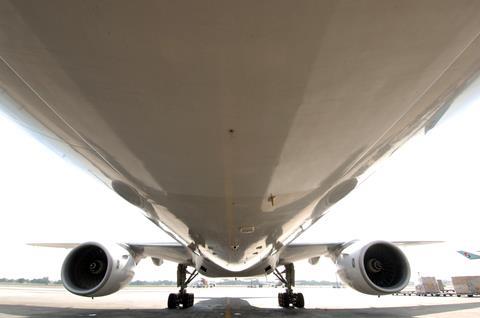 In addition, the airline recently tweeted that it is in the market for 777-200ER flight crew.
The move into long-haul would appear to be consistent with SpiceJet's stated long-term ambitions.
In mid-2020, SpiceJet secured "designated carrier" status for scheduled services to the USA and the UK – a key first step to launching flights to both countries. At the time it provided no details about when it might launch services to the two countries, or what aircraft it would use.
Cirium fleets data indicates that SpiceJet operates 72 aircraft, with 24 in storage. Most of the in-service aircraft are 737 family jets, along with 28 De Havilland Canada Dash 8 Q400 turboprops. Of these aircraft, five are converted 737 freighters.
The carrier recently returned the 737 Max 8 to operations, and now has four of the re-engined type in service. It has a further nine 737 Max 8s in storage, with 123 on order.
The re-launch of the 737 Max 8 followed the carrier's reaching an agreement with Boeing about the type, which was grounded following two fatal crashes of the type in 2018 and 2019.
SpiceJet, without providing details, had this to say about the Boeing agreement in mid-November: "The company is pleased to announce that it has entered into a settlement agreement with Boeing wherein Boeing has agreed to provide certain accommodations and settle the outstanding claims related to the grounding of 737 Max aircraft and its return to service."