Airbus says that US ultra-low-cost carrier Spirit Airlines has finalized an order of 100 A320neo family aircraft as it renews its fleet and aims to grow by double-digits through the mid 2020s.
The Miramar, Florida-based airline will receive a mix of A319neo, A320neo, and A321neo to meet the airline's future fleet requirements, the European planemaker says in a statement on 6 January. The airline will choose an engine later in the process, Airbus adds.
Spirit is a strong International Aero Engines customer and its current A320neo fleet is powered by Pratt & Whitney PW1000Gs.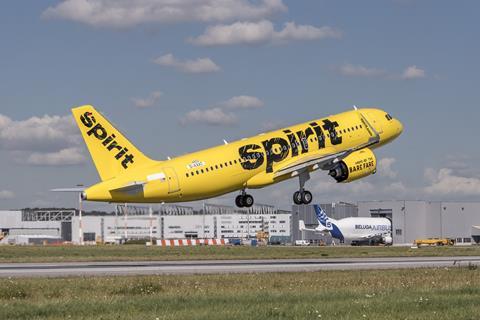 Spirit Airlines signed a memorandum of understanding for the jets in October, with delivery scheduled through 2027. The carrier's all-Airbus fleet currently consists of 144 aircraft, including 20 A320neos, according to Cirium fleets data.
Airbus says that so far it has more than 7,300 firm orders from 110 customers worldwide for the A320neo family.