Taiwanese carrier Starlux Airlines is due to take delivery of its first widebody, an Airbus A330neo which will operate flights within the Asia-Pacific region by the middle of the year.
The aircraft, registered B-58301, will land in Taipei in the afternoon on 19 February, following a flight from Airbus' Toulouse facility, says the carrier in an 18 February statement.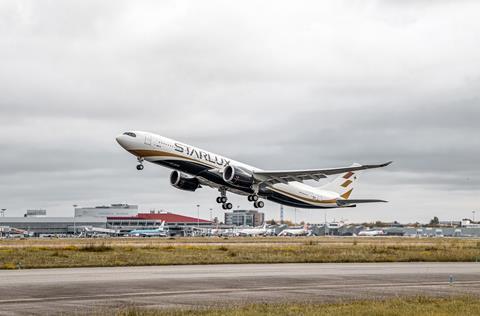 It is the first of eight A330neos that Starlux will be taking. Announcing the order in September 2020, the carrier said the eight jets will be leased from Air Lease Corporation.
Starlux adds that the first aircraft will enter service "after the approval process and required crew training are completed in May". It will operate the A330neos — configured to seat 297 passengers in two classes — to cities such as Macau, Ho Chi Minh City, Singapore, Bangkok and Tokyo.
The Taipei-based carrier is the latest Asia-Pacific airline to operate the A330neo — other operators include Cebu Pacific, Garuda Indonesia, as well as Air Calin.
Starlux, which will take delivery of three more A330neos this year, is also expected to take the first of 18 A350s in the third quarter of the year.
Starlux chairman KW Chang says the arrival of the A330neo marks a "key milestone in our growth".
"With the addition of the A330neo, Starlux can deploy our fleet more flexibly and provide our service to more passengers over regional routes," he adds.