Ultra-low-cost carrier Sun Country Airlines plans to acquire five Boeing 737-900ERs that are currently being leased to Oman Air.
The Minneapolis, Minnesota-based leisure specialist said on 4 April that it will "acquire current leases" of the aircraft as they expire with Oman, taking delivery of one 737-900ER at the end of 2024 and the other four throughout 2025.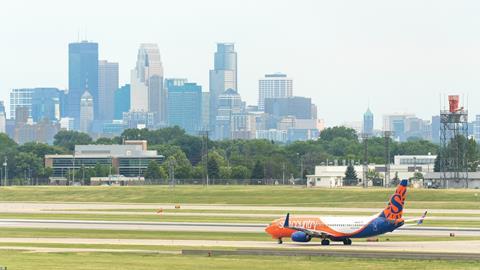 "This transaction demonstrates Sun Country's ability to opportunistically acquire aircraft in a tight market at favourable economic terms while providing fleet growth certainty through 2025," the airline says.
The discounter did not disclose financial details of the deal, which will be financed through a credit facility with MUFG Union Bank, Sun Country says.
Acquiring five of the same variant "guarantees sufficient scale to be efficient" and also offers greater range and seat capacity than Sun Country's existing fleet of 737-800s, according to the carrier.
"The 737-900ER will be a great addition to our fleet," says Jude Bricker, chief executive of Sun Country. "Relative to our 737-800 aircraft, it will increase the number of seats without a reduction in range or take-off performance."
"This transaction demonstrates our ability to find creative ways to source the right aircraft in any market environment," he adds.
Sun Country achieved a modest profit in 2022 as leisure travel demand rebounded from the Covid-19 pandemic and the airline increased revenue in all three of its operational segments – scheduled passenger, charter and cargo.
Sun Country currently operates 41 737s, plus 12 freighter jets on behalf of Amazon, according to Cirium fleets data.