Lessor Air Lease has resumed deliveries of the Boeing 737 Max, having handed two of the jets to Canadian leisure carrier Sunwing Airlines.
The Toronto-based airline has taken the jets even as its operation remains essentially shuttered due to the Covid-19 pandemic.
The deliveries bring to four the number of CFM International Leap-1B-powered 737 Max delivered by Los Angeles-based Air Lease to Sunwing, an affiliate of Sunwing Vacations.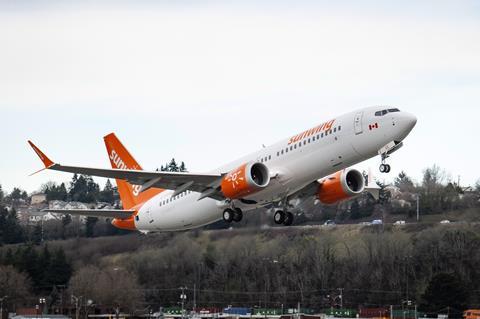 The latest pair are the first Max aircraft Air Lease has delivered since regulators lifted the type's grounding. The US Federal Aviation Administration cleared the Max to fly in November 2020, and Canadian regulators followed in January.
Sunwing operates 18 jets: six 737 Max and 12 737-800s, Cirium fleets data shows.
The carrier operates flights from Canada to warm-weather leisure destinations in the USA, Central America and the Caribbean.
But on 31 January, the airline halted "all southbound flights to sun destinations" due to the pandemic. Other Canadian carriers likewise stopped such flights, a decision they said was made in collaboration with Canada's government.
On 1 February, Sunwing Vacations secured a loan of up to C$375 million ($293 million) from the government-owned Canadian Enterprise Emergency Funding Corporation (CEEFC). The funds, which come from Canada's pandemic-relief programme, will help protect jobs, Sunwing says. The airline has already taken C$50 million, according to CEEFC.