Swiss will lease as many as six Airbus A220-300 aircraft from Air Baltic in order to "stabilise its schedules" in the coming months.
"We've agreed a collaboration with Air Baltic for the coming winter timetable period to further stabilise our flight schedules and provide even more reliability for your travel plans," the Basel-based airline posted on Twitter on 5 August. "The up to six planned aircraft will perform flights on our EU network."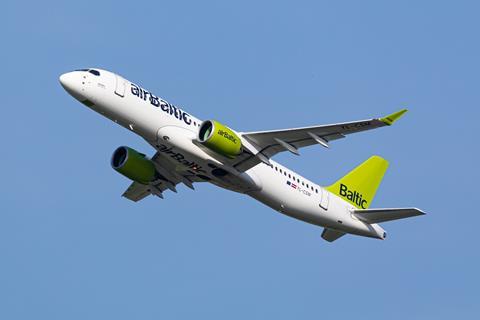 The airlines did not respond to multiple requests for further information.
In April, Latvian carrier Air Baltic said it would wet-lease a portion of its A220 fleet to other European airlines for a number of years, as its home markets recover from the pandemic and it adjusts its network in response to the conflict in Ukraine.
Some 11 of Air Baltic's 33 A220s are currently wet-leased between Eurowings, Eurowings Discover – both Lufthansa Group companies – and SAS, operating from bases including Dusseldorf, Munich and Stockholm. It is unclear whether or not the six aircraft due to be leased to Swiss in today's announcement are in addition to these, or if the airframes will be shifted within Lufthansa Group.
According to Cirium fleets data, Swiss already operates 30 of the type, split between the -100 and -300 variants. The A220-300 variant of the aircraft is outfitted with 145 seats and operates on inner-European routes.
Swiss has been forced to cancel hundreds of flights in the past few weeks due to a lack of qualified flight crew, and is struggling to rebuild its staffing following the two-year Covid-19 crisis.