Swiss will start introducing premium-economy seats on its Boeing 777 fleet during the fourth quarter in an effort to diversify its product offering amid an increased focus on leisure traffic in the aftermath of the pandemic.
The Lufthansa subsidiary says it will install 24 premium-economy seats on each of its 777-300ERs in a layout which also includes eight first, 62 business and 226 economy seats.
Before the reconfiguration, Swiss's 777-300ERs were fitted with 270 economy, 62 business and eight first-class seats – 20 seats more than in the new layout featuring premium economy – Cirium fleets data shows.
"In introducing its new premium-economy class, Swiss is further strengthening its premium positioning in the growing leisure travel segment," the carrier says.
Chief executive Dieter Vranckx states that Swiss is meeting "growing demand for more privacy, more comfort and more individuality".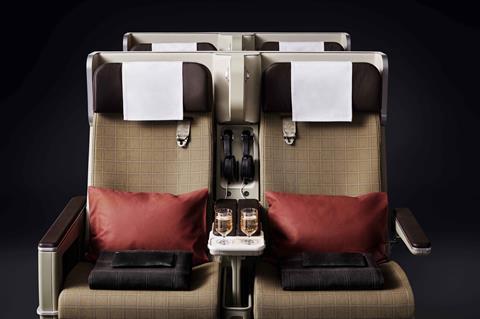 Swiss is the last Lufthansa-owned network carrier to introduce premium economy. The German mainline introduced the fare category in 2014 and Austrian Airlines followed suit in 2017.
Brussels Airlines has had premium economy seats on its long-haul fleet for some time, its website indicates.
Lufthansa's low-cost arm Eurowings, meanwhile, offers a premium fare that is more akin to business class, including lie-flat seats on long-haul flights.
Like Lufthansa and Austrian, Swiss has opted for premium-economy seats supplied by German manufacturer Zim Flugsitz.
Zurich-based Swiss says, however, that the fixed-backshell seat has been newly developed and represents "latest-generation" premium economy design.
Chief commercial officer Tamur Goudarzi Pour states: "Our new premium economy class is tailormade for our previous economy class customers who are looking to enhance their air travel experience and enjoy the benefits associated with higher travel classes. In international comparison terms, our Swiss premium-economy class is very clearly positioned as a top travel product."
In addition to the 777-300ERs, Swiss's long-haul fleet includes 14 Airbus A330-300s and five A340-300s. Ten A330s and one A340 are listed as being in storage.
Earlier in June, Swiss said it will decommission either five A330s or five A340s as part of its recovery from the pandemic.
Swiss tells Cirium that it has not decided when premium-economy seats will be installed on the rest of its long-haul fleet.