Taiwan's Starlux Airlines is to take delivery of the first of 18 Airbus A350s in October, which it will deploy on flights to Los Angeles – its first North American destination – in April 2023.
The carrier, in a 13 September statement, adds that the widebodies, which seat 306 passengers in a four-class configuration, will first operate intra-Asian flights before being scheduled on long-haul flights.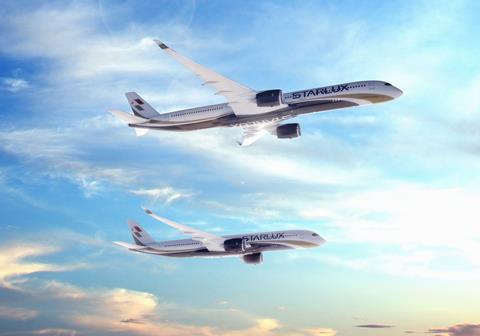 Starlux ordered 18 A350s – comprising a mix of -900s and larger -1000s – in 2019, months before it began operations. At the time, it had intended the jets to operate long-haul flights to North America and Europe.
The disclosure of its A350 deliveries comes as the airline raised NT$3.8 billion ($112 million) in loans from 13 banks, which it will use to fund the delivery of the aircraft.
Starlux in February took delivery of its first A330neo, which it flies to points in Asia-Pacific. The airline, founded by ex-EVA Air chairman KW Chang, is also an A321neo operator.
While passenger traffic has been impacted by Taiwan's continued coronavirus border restrictions, Starlux in its latest statement says recovery is on the horizon. Passenger revenue for the January-August period is more than twice the amount reported in the same period in 2021.
It adds: "With the increase in market demand, Starlux Airlines plans to continue increasing flights, and is actively preparing to launch new destinations."