Romanian carrier Tarom has put 14 aircraft up for sale, including all of its Airbus A318s, Boeing 737-300s and 737-700s.
In a notice on its website, Tarom says it plans to sell four A318s, four 737-300s and four 737-700s, as well as two ATR 42-500s. The airline is seeking offers for the aircraft, which are being sold in an "as-is, where-is technical condition".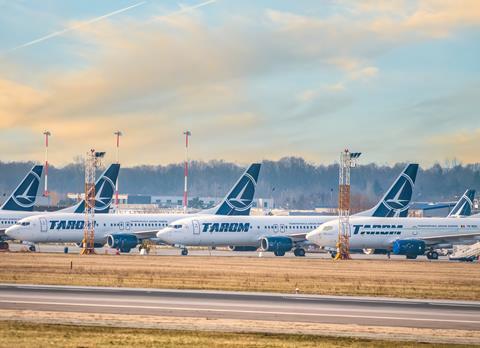 Cirium fleets data shows that Tarom has four A318s in service. It has one 737-300 in service and three in storage, as well as three 737-700s in service plus one in storage.
The airline owns a total of seven ATR 42-500 turboprops, all of which are listed as being in storage. Its fleet also includes four in-service Boeing 737-800s and four ATR 72-600s, as well as two ATR 72-500s which are listed as being in storage. Tarom has another five ATR 72-600s on order along with five Boeing 737 Max 8s.
Tarom says the aircraft it is selling are available for inspection at its maintenance facility in Romania.
The airline was cleared by the European Commission last year to receive nearly €37 million ($44 million) in rescue aid.